Review: Scosche enters car radio fray with iOS connected controlFREQ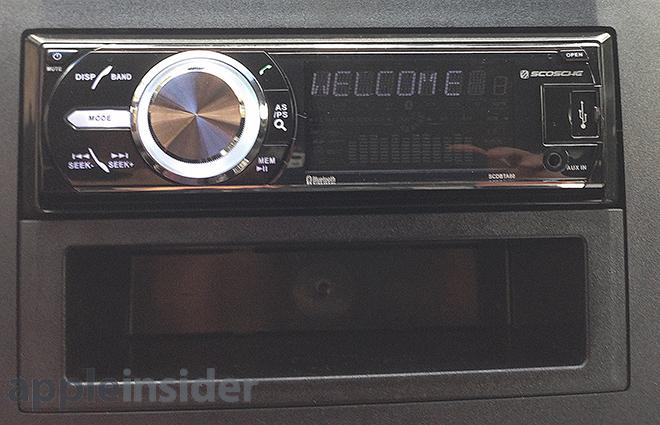 After decades in the car audio industry, and many years spent as a consumer device and accessory maker, Scosche recently debuted its first Bluetooth car stereo receiver in the controlFREQ, a single DIN head unit that can be controlled with smartphone app.
The most important thing about car audio in this day of heavily integrated, manufacturer provided entertainment systems is paying attention to how integrated they are, and what you give up when you change to an aftermarket system.
Hardware
The first thing I noticed when using the controlFREQ was the immediately apparent lack of niceties from my old Cadillac receiver, which handled low fuel consumption, boasted steering wheel controls, integrated seat and mirror memory settings tied to the unlock key fob remotes, a trip computer, oil life and a number of other features I can't even recall.
I admit, these features are not crucial for driving, but having had them, it's as if I've given my car a lobotomy with the new unit, crippling its convenience.

The controlFREQ has its benefits, but there are a few things that Scosche didn't get right. The receiver doesn't have a dedicated Siri button (or for Android, one that prompts the voice dial feature), lacks an external microphone and has no remote connector to translate commands from the car's steering wheel-mounted controls.
Why are these a big deal? Driving with Siri (or to a lesser extent, the automation found in Android or Windows Phone) is a great experience. Pressing a button to gain access to a phone's handsfree features is a perfect way to interact while on the road. It's not hard to do technically, and Scosche missed out on this feature.
Microphones need to be near the face to pick up voice well. In a car, this usually usually means installation around the rear view mirror, on the front pillar, or near the gauge binnacle. Anywhere that is close to, or in line with the driver's head. Locating the only microphone on the center stack means it isn't going to work as well as it could.
A component that would allow support for existing steering wheel control is an odd thing to exclude. This is especially confusing when Scosche already sells PAC-Audio devices which adapt car manufacturer's steering wheel controls to the remote interfaces on popular radios from Sony, Pioneer and JVC. The company also makes a wiring adapter with logic that allows from-the-factory parts, such as Bose Amps and GM's OnStar, to continue to work when an aftermarket stereo is installed.
Given this engineering capability and knowledge, why couldn't Scosche have included a remote interface in its first car stereo? If it had replicated any one of the remote signals already sold in one of the firm's other products, my steering wheel controls would still function.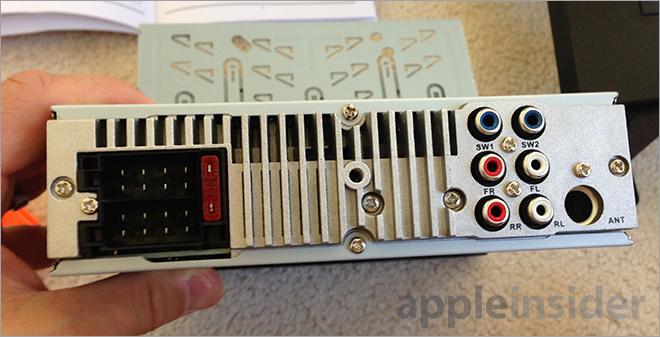 The controls that the receiver does have are well-executed. For example, the volume knob has a subtle click detent feel to it and turns with ease. It's large, knurled and easy to grab hold of. The screen is easy to read despite being segmented like old car stereos or alarm clocks, most likely a move to keep manufacturing prices down.
Installation
For the review, Scosche provided the following:
Scosche controlFREQ car stereo
Scosche GM1586B fascia (dual and single DIN) for my car, a 2005 Cadillac CTS
Scosche GM20SR Stereo Replacement Interface for 2003-2006 Cadillac SRX and CTS (retains Bose and OnStar)
The installation was relatively straight-forward, but there were some minor difficulties regarding compatibility.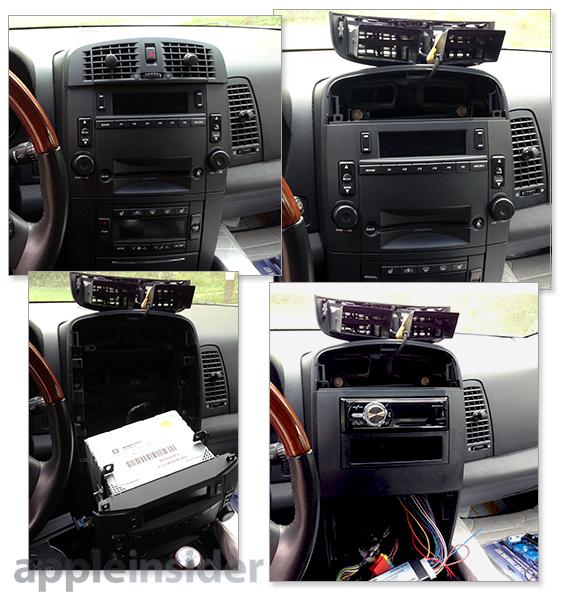 For example, the controlFREQ comes with a large sticker labeled "Warranty Void if Sticker Damaged or Removed."
Unfortunately, the act of inserting the Scosche radio in the provided fascia, using the company's ISO mounting tabs, will shred the sticker. You read correctly - installing the radio using parts from the same manufacturer causes damage that supposedly voids the warranty.
When made aware of the issue, Scosche noted that damage to the sticker during installation is usually not a problem, and the company would honor the warranty as long as the customer retains a copy of the purchase receipt.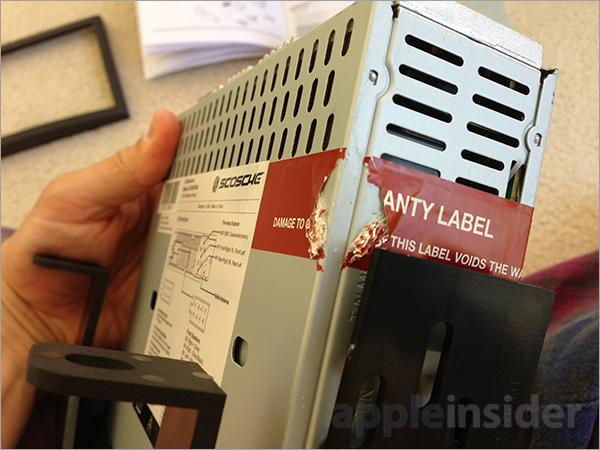 The Scosche GM1586B installation kit came with a single DIN surround and a dual DIN surround to make the gap around the radio follow the surface profile of the larger fascia - essentially a more "factory" look. The piece that comes stock on the controlFREQ doesn't.
When I switched the controlFREQ's fascia with that of the GM-specific part, a few of the very tiny snap fingers that hold it on (2 on each side) broke in the process. Using the nice one that comes with GM1586B prevents the radio faceplate from folding down or being easily removed - essentially blocking easy access to the reset button, SD Card slot and CD slot.
Scosche assures me that it's looking at redesigning this surround so that it can accommodate the the faceplate folding down.
The App
The App was designed prior to iPhone 5 and has yet to be updated to take advantage of its 4-inch display. Even leaving that out, it uses a non-standard volume slider that is hard to get used to — it take up less than the full width of the display, so it's a smaller target for my finger. Also, the volume control doesn't feel immediately responsive.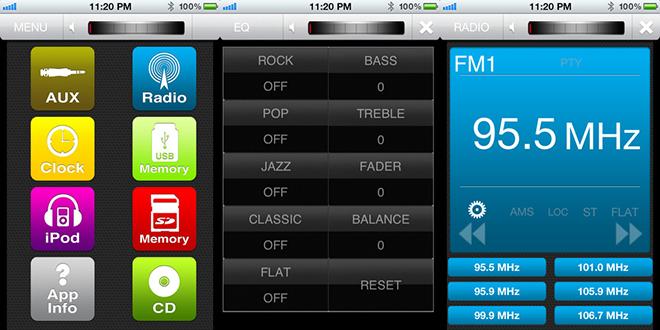 The EQ and other functions (switching inputs) work well. I imagine they're most useful for a backseat passenger. It is easier to adjust EQ on the app, easier to adjust volume with the knob on the radio.
One nice benefit of having iOS support? Pairing with the phone causes the radio's clock to be set correctly. Thank you, Scosche, for getting this right.
Performance
So, how does it work? Actually, reasonably well.
Pairing with Bluetooth was quick and about as easy as it is for any other Bluetooth device.
Call audio quality wasn't all bad, although I had to remember to turn down the A/C in order for people on the other end of the call to hear me with any clarity.
Streaming music from the iPhone worked as expected, although controlFREQ is not using profiles and codecs that would make the Bluetooth audio and calling sound better.
Going forward, I expect AAC as the codec for Bluetooth audio and Wideband Speech Profile to be included in any Bluetooth handsfree product that's made - the high quality voice services that are coming about with iPhone 5 and carrier adoption mean now's the time for manufacturers to start including them in products, especially semi-permanent ones like a car receiver.
Admittedly, this may be too high an expectation for car audio — the car is very much an imperfect listening environment. When designing car audio, it's possible to tune all the car audio components to perfection when the car is off, but the moment the car is on you have electrical interference (alternator whine!), road noise, noise from the climate control, all of which ruin the expense spent on tuning the audio properly. It's possible to overcome much of this through expensive DSPs that use microphones and noise-cancellation, but that's very much out of budget for an affordable product today, like the controlFREQ.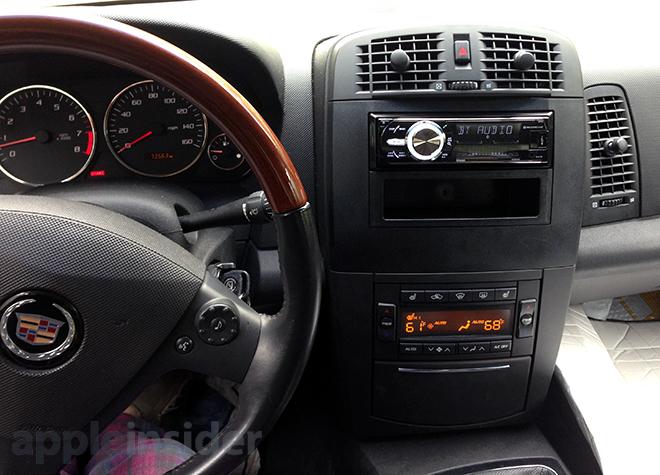 The good news is that this product is affordable at $120, so for all these features, it's not a huge investment to replace. I acknowledge that the cost of the GM20SR installation kit is not small, but this would be required for any clean installation.
Think of it like this: If I had a nice used car that didn't have handsfree, for about $130-140 (depending on the cost of the dashboard fascia) I could replace the stereo and add handsfree calling to the car. Playing music from my iPhone and having app control are bonuses.
What I observe other than my desire for a Siri button is that this product probably works best in a car with less integration and features, one without steering wheel controls and an integrated car system that does more than audio. Cars like this are getting older and even then they have these features. I owned a 2002 Ford Focus SVT which had audio controls on a stalk on the steering column, for example.
The phone button on the radio faceplate would have been perfect for prompting Siri (or voice input on Android or Windows Phone for that matter) but it doesn't. Instead, it redials the last number called and answers or rejects incoming calls.
I do wish that when streaming audio from Bluetooth to the controlFREQ that the track names appeared on the segmented display. They do not. This would have been a nice touch.
Conclusions
Car audio is hard to solve elegantly. As the integration between the entertainment system and rest of the car gets tighter, it gets harder to convince people to give up the stock system and spend the time and money to install an aftermarket product.
The other problem with car bound accessories is that many of them have their own application on the App Store. This is great until you have more than one. That is, if I'm using a navigation app, running an app-enabled radar detector, and using a streaming music service for my music source, but need to switch to the car radio app to control the EQ, I'm now out of navigation context when I really ought to be driving. Switching apps requires reaching for the phone unless you can prompt Siri. This is why I like driving with Siri, which isn't available in this head unit.
This is a good radio for a car whose other services aren't tightly integrated into the stock entertainment system. It's affordable, does what it sets out to do, and does it well — I just wish it did a little more.
The Scosche controlFREQ is available now for $119.99 directly from the company's website.
Score: 3.5 out of 5

Affordable
Handsfree calling
Advanced app conrols
No dedicated Siri button
No steering wheel control
No external mic option
AppleInsider has affiliate partnerships and may earn commission on products purchased through affiliate links. These partnerships do not influence our editorial content.