Apple installing WWDC banners: 'Where a whole new world is developing'
Apple has started installing banners for next week's World Wide Developer Conference, featuring brightly colored squares and the tagline "Where a whole new world is developing."
Apple WWDC banners going up at Moscone Center, San Francisco
Located in San Francisco's Moscone West convention center, the 2013 WWDC event banners reflect the the same light, bright color scheme reflected in the sessions' app (pictured below, in contrast to the app released for previous years).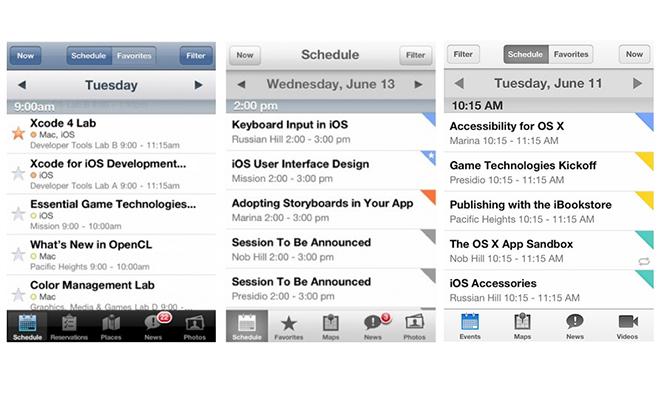 via
Garee's Blog
The bright, layered look may hint at similar use of color in the revised appearance of iOS 7 as well as the next version of OS X, both of which will be introduced to the public and detailed in depth for Apple's developers in the week long sessions focusing on third party support for Apple's platforms.
Apple has often "leaked" design elements of its upcoming operating system releases in apps, particularly in releases of key software such as iTunes. In fact, the new WWDC app looks a lot like the new iTunes 11, employing the same mostly white backgrounds highlighted with lighter shades of grey, limited use of color, and flatter, simple, iconic iPad-style button icons.
Outside Moscone West, workers are also again installing giant white Apple logos on either side of the building's prominent corner (below).
This year, WWDC attendees will see lots of changes and activity in the South of Market Area surrounding the venue, including the revamped Metreon retail complex across the street, which now includes a scaled down City Target department store and a greatly expanded food court offering alternatives to the food options provided at WWDC.
Fourth Street itself is also a hotbed of construction, given that San Francisco has started work on the Central Subway, which will include a station south of Moscone as well three blocks west at Union Square.
Apple's current retail store at Fourth and Market is at the epicenter of the large project, which has closed the BART subway entrance under the store and blocked the streets in front of it, but hasn't done much to tame the crowds visiting the store itself.
Apple's planned new store at Union Square (pictured above, two blocks north of the current one on Market Street) will upgrade the location's capacity and put it in a classier location next to luxury stores and upscale hotels, rather than on the drab and dirty corner of the Powell Bart station (portrayed above it).