Apple files patent for digital wallet service that pays users to view advertisements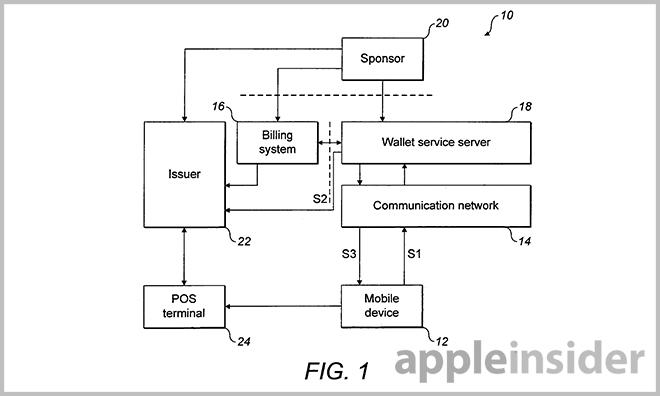 AppleInsider is supported by its audience and may earn commission as an Amazon Associate and affiliate partner on qualifying purchases. These affiliate partnerships do not influence our editorial content.
An interesting Apple patent application discovered on Thursday describes a hybrid digital wallet and billing service that issues credits and tokens to users, which can then be exchanged for real world goods or services like a cellular phone bill.
The invention, published by the U.S. Patent and Trademark Office, carries the innocuous title "Method and system for managing credits via a mobile device," but is really a wide-ranging virtual currency solution that covers cell bill payments, tangible goods purchases, peer-to-peer money transfer, and more.
As seen in the patent's abstract, a so-called "digital wallet" is central to the system's functionality, with credits having monetary value being delivered and stored on a mobile device. These credits are tied to an account, or billing system, that keeps track of how the virtual currency is being used.
The patent discusses a bill payment system in which credits can be added to an account on a pre- or post-paid schedule, with the total being depleted over time based on usage for the former, or accounted for after a set time period in the latter.
In one embodiment, the billing system measures and compares usage of the service with a free or subsidized balance allotted to each user. Interestingly, the language notes that instead of sending invoices for said services to the user, this method allows for advertisers to be billed directly.
From the patent description:
Other techniques to provide subsidized or free telephone services to the users are also envisioned. For subsidized telephone services, the users may be responsible for a portion of their usage and thus they would be interested in eliminating unnecessary use of such telephone services.
Since the billing system is coupled to the communication network on which a credit carrying mobile device is operating, it can monitor usage patterns in real time. Thus, as a branch of this system, advertisements can be delivered to a plurality of mobile devices via messaging service or other wireless data service.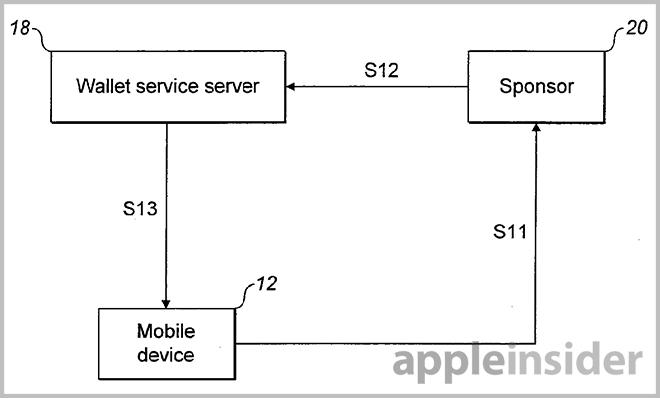 In another embodiment, "tokens" are distributed to users from various providers, such as an advertiser, which can then be used to offset a portion of a wireless service bill. Issuers can also send vouchers, coupons and the like via a generated code that is transferred through the digital wallet service server and/or the billing system.
While the tokens and coupons may remain in the digital domain when applied to cell bills, the code generation allows users to purchase real world items via point of sale terminals. Much like the current implementation of Apple's Passbook, these coupons can be stored on a mobile device to be traded for goods at a later date. In addition, the invention allows for lines of credit to be created, as well as a provision for connecting with bank accounts.
Finally, one embodiment allows for the token provider to be another subscriber. Friends or family can text or otherwise send tokens to a user's mobile device or, alternatively, the user may request credit from the provider.
Such a solution would be a boon for cellular carriers in developing nations, where subscribers are keen to buy smartphones like Apple's iPhone, but may not be able to afford the device or necessary data service. Apple is already making aggressive pricing moves in such countries, and recently found success in India as sales jumped 400 percent over a four month period.
Also interesting is the origin of Thursday's patent application, which was first filed for in Great Britain in 2008 before being terminated and reassigned to Apple. As listed on the USPTO's website, the inventors, Janne Aaltonen and Sami Saru, are both tied to a Finnish IP management and creation company called CVON Innovations. Not much is known about the firm, though a quick search shows it has been active in since 2008. Apple has been assigned at least one other patent from CVON regarding an advertisement delivery system for mobile devices.