New commercial introduces 'Designed by Apple in California' ad initiative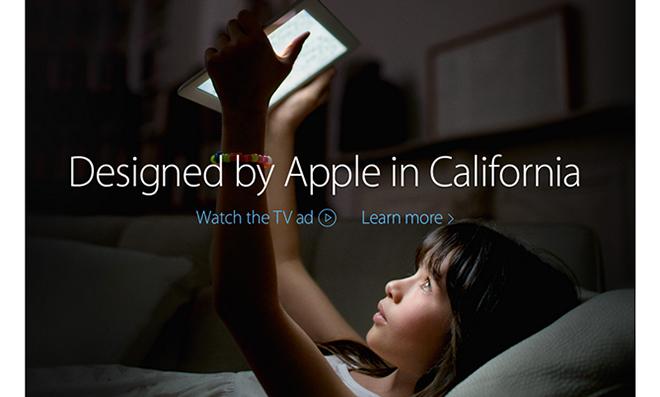 Following its WWDC keynote on Monday, Apple released a new commercial that is not so much an ad for a single product, but an explanation as to why the Cupertino company exists and is also the first spot to be featured in what appears to be a new advertising initiative.
"This is it, this is what matters," the narrator says over simple harmonic chords.
Apple continues its new ad style with the latest spot, but instead of focusing on an iPhone or iPad, the commercial looks to imbue the essence of Apple as a company. Possibly overshadowed by the crush of announcements, the ad can be found on the Apple.com homepage under the "see all" tab below the large iOS 7 graphic.
The embedded video leads to a new area of Apple's website, titled "Designed by Apple," which touts the design philosophy behind the company's hardware and software products.
Just as late cofounder Steve Jobs would often note how the latest iPhone "felt," or how the iPad could change a user's life, so does the latest ad, but in a more profound way.
Under the narration, which talks about how Apple's mantra is to make a few great products that touch the lives of users, are scenes of everyday life. There is no sound to these shots, just the disembodied voice and plucked chords. It lends a surreal feel that we, as the audience, are peeking in on intimate and important moments of the characters.
Each scene features an Apple product of some sort, though it is usually pushed off-center, and at times even out of focus. The machines are not what's important, but the feelings they invoke are. We see human faces lit by iPad screens, crowds dancing to music from a MacBook Pro, and couples taking pictures with an iPhone.
Apple's carefully crafted TV spot is somewhat reminiscent of the iconic "Here's to the Crazy Ones" spot, which launched the Think Different campaign and signaled the revival of a struggling company. While not on the same grand poetic level, the new ad plays to emotion rather than consumer want, which according to Apple is the main reason it exists.
"We spend a lot of time on a few great things, until every idea we touch enhances each life it touches," the narrator says. "You may rarely look at it, but you'll always feel it."
"This is our signature, and it means everything."