Apple working with Logitech and Moga for MFi game controllers, details framework at WWDC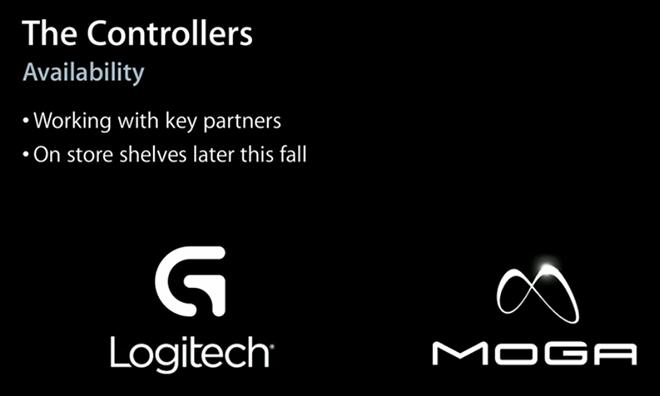 In the clearest sign yet that Apple is serious about supporting dedicated third-party game controllers in iOS, the company held a 45-minute long session at WWDC on Tuesday, showing off app frameworks, hardware mock-ups and a set of preliminary best practices guidelines.
During the session, which is available as a video to all registered Apple developers via the WWDC app, it was also announced that Logitech and Moga are already collaborating on initial hardware designs for the game controller. The certified third-party involvement was first spotted by Czech Apple blog Jablickar.
A closer look at the presentation, however, revealed just how serious Apple is in making standardized game controllers a reality in iOS 7. Titled "Integrating with Game Controllers," speakers ran through a fairly comprehensive set of app frameworks and other assets that will help developers code games for the proposed controllers. Logitech even had prototypes on hand.
Apple offered two hardware examples, which were partially outlined in a report earlier this week, with the mock-ups showing a "form-fitting" design that wraps around an iPhone or iPod touch, as well as a standalone controller. Each model features a D-pad, dual analog sticks, four action buttons, and shoulder bumpers/triggers.
The form-fitting version allows users to not only interact via the controller, but also the iOS device's multitouch screen, a layout seen in Sony's PS Vita console. This setup offloads controls previously located on-screen, clearing up valuable real estate on the devices' 4-inch displays.
As for the standalone model, Apple notes that it should not be attached to the device in any way, meaning the controller should support a wireless solution such as Bluetooth LE. Controls are nearly identical to the form-fitting version with one major exception: player indicator LEDs. This suggests multiplayer support in an implementation much like Microsoft's Xbox 360 and Sony's PlayStation 3.
In addition, both controllers will feature a dedicated pause button, something that is built into many iOS games. Also of note are pressure-sensitive buttons, non-drifting D-pads and thumbsticks with no dead zones, and fast report rates for all actuators.
While Apple touted the benefits of having a standardized piece of equipment specifically meant for controlling an iOS game, it made clear that such a device should not be a requirement. The company is, however, looking to help app developers deploy game controller-ready titles in its MFi initiative.
Presenters mentioned multiple times that Apple would be pushing to have the device specifications and accompanying APIs ready for launch this fall in iOS 7.