Apple's iPhone still tops Japan, but discounts give Sony a big boost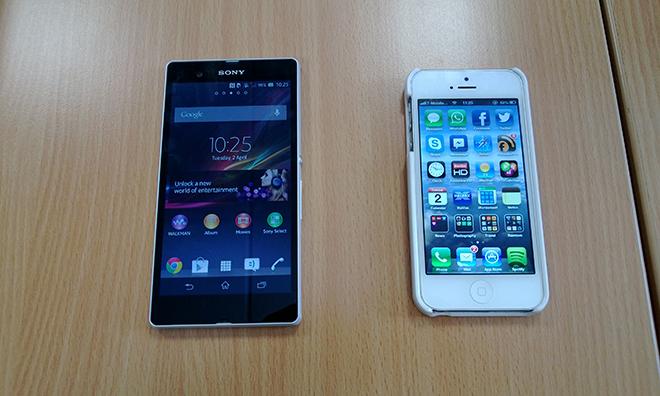 AppleInsider is supported by its audience and may earn commission as an Amazon Associate and affiliate partner on qualifying purchases. These affiliate partnerships do not influence our editorial content.
Apple's iPhone may hold the top spot among smartphones in the Japanese market, but a recent push by Sony and a major carrier has its Xperia handsets rushing up the sales charts.
Sony's Xperia Z and Apple's iPhone 5. Image via Gizmag
In the first quarter of 2013, Apple's iPhone accounted for nearly 40 percent of all Japanese smartphone sales, according to market research firm IDC. Sony over the same period accounted for 13.3 percent of smartphone sales in its home market.
A BCN report released on the same day, though, found that the last four weeks have seen a reversal in Sony's fortunes, according to Bloomberg. Tokyo-based BCN, which relies on sales figures from more than 2,000 retail outlets, found that Sony smartphones represented 36 percent of shipments in the past month, with Apple's share dropping to 25 percent over the same period.
In the week beginning May 6, BCN measured Apple's share of the Japanese market at over 40 percent. At the same point, Sony held just 14 percent of sales.
Sony's sales boost is due in large part to a promotion from NTT DoCoMo, Japan's largest wireless carrier with more than 60 million subscribers — almost half the population of Japan. DoCoMo, looking to cut costs, is only offering promotions and discounts for two manufacturers' devices: Sony's Xperia line and Samsung's Galaxy S4.
At the same time, NTT DoCoMo does not carry Apple's iPhone. While it is the nation's largest carrier, it is the only one in Japan that doesn't carry Apple's bestselling handset. DoCoMo and Apple are at odds over the carrier's policy of preinstalling software on smartphones, which Apple doesn't allow its carrier partners to do.
Aside from the DoCoMo promotion, the rise of the Xperia brand is due to its own merits. The Android-powered handset is both powerful and light, and its design and build quality have received positive reviews. Additionally, Sony designed its flagship Xperia Z model to be both waterproof and dust-proof, a feature that appeals to Japanese consumers.
Sony's Japanese rise has also come at the expense of Samsung, the world's overall smartphone sales leader. Samsung's share of the Japanese market has been slipping, according to BCN, and the South Korean conglomerate's smartphones fell to just 13 percent of sales in the week starting June 3.