Twitter heat map shows iPhone use by the affluent, Android by the poor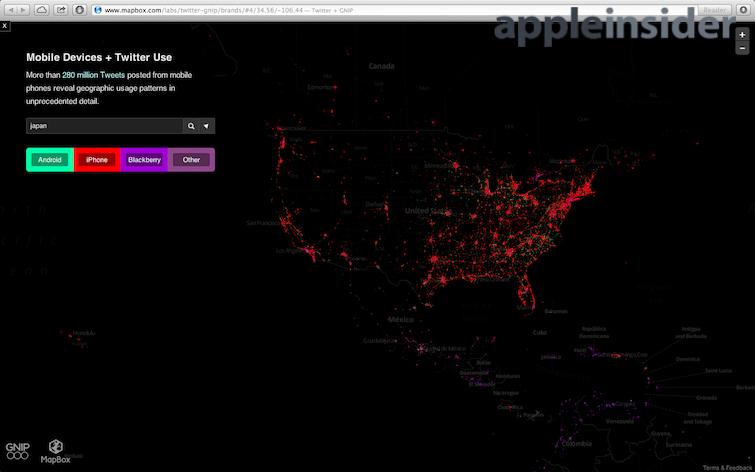 A map plotting the location and device platform of over a quarter billion mobile tweets show predominate use of iPhones in affluent areas and Android in poor regions, with scant representation of Blackberry outside of major cities and its strongholds in Africa, Central America, Southeast Asia and the Middle East.
The interactively explorable globe by MapBox, tweeted by Benedict Evans, pairs data from GNIP and Twitter to light up the world one tweet at a time.
The resulting image of North and Central America depicts the wealthier, urban of United States and Canada (above) as lit up in iPhone red, while in some rural areas and south of the border, there's more Android green and Blackberry purple.
The same pattern emerges in Europe (below), where in the U.K., Scandinavia and most of Central and Western Europe are predominately red, while Spain is mostly green. Blackberry seems to continue to enjoy a greater representation in European capitals than it has retained in the U.S.
In Asia, the pattern repeats again (below), with Japan and Hong Kong dominated by red, along with major cities including Seoul, Shanghai and Taipei. The remains of Samsung's South Korea and HTC's Taiwan are dominated by green.
In closer detail, the same applies to the San Francisco Bay Area (below), where more affluent neighborhoods in Marin and Berkeley and from Silicon Valley to San Francisco appear in bright red while green dominates in poorer neighborhoods: West Oakland, East Palo Alto, Hunter's Point, Richmond and Vallejo. And again, Blackberry is represented in a bright purple spot centered in San Francisco's Financial District.
Apple continues to gain in the enterprise at Blackberry's expense, and is widely expected to announce a new foray into lower priced handsets to target markets that have, so far, been served almost exclusively by Android's lower end offerings.
Apple targets the middle tier of smartphones
The company has already sought to expand its customer base by partnering with smaller, U.S. prepaid carriers who cater to users on a budget, an effort that only began last summer.
Apple has also shown itself willing to earn lower profits to expand its customer base with last fall's iPad mini, aggressively priced at just 50 more than bargain bin devices like Google's Nexus 7 and Microsoft's Surface RT, which major education markets have rejected despite its new fire sale pricing.