Deals: 20% bonus on iOS trade-ins, more MacBook Pro discounts and Air bundles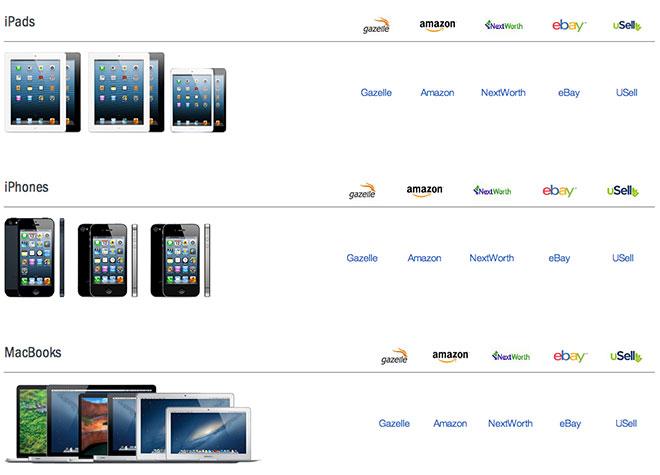 In this weekend's deal roundup: trade-in services are increasing payouts by as much as 20% for used iPads, iPhones and iPods ahead this year's product refreshes. Meanwhile, over a dozen new MacBook Air configs are in stock along with the return of the $999 MacBook Pro with optical drive. And some 13-inch Retina MacBook Pros are now discounted by $900-$1000.
iOS Device Trade-in Bounties Rise
It's within the months leading up to each new iOS device introduction that existing iPhones and iPads hold their highest trade-in resale values, and as such trade-in services are propositioning customers to lock in a quote for their own trade-ins if they can. To sweeten the pot, Gazelle is offering to pay AppleInsider readers an additional $10 on any trade-in item valued over $25 while NextWorth will give you an additional 20% in value for all iPads, iPhones and iPods when using Promo Code BONUS20 during the trade-in process.
13-inch MacBook Pro Retina Price Drops
Meanwhile, two of Apple's largest reseller partners — MacMall and B&H Photo Video — slashed prices on a handful of well-equipped 13-inch MacBook Pro with Retina configurations over the past week. For instance, when using the links in our price guides and applying Promo Code APPLEINSIDER01, MacMall's final price on a 2.9GHz 13" MacBook Pro (8GB,512GB) is now just $1,695.99 (a $1003.01 savings off MSRP). Similarly, a 2.5GHz 13" MacBook Pro (8GB,512GB) is $1,598.99 ($901.01 off MSRP). And B&H Photo is selling the 2.5GHz 13" MacBook Pro (8GB,768GB) for $2,049.00 or for $2,228.99 with AppleCare (a savings of $950.00 and $1,019.01, respectively). Separately, eBay (via Coast Nationals) is selling Apple's current 13-inch MacBook Pro with optical drive for $999.00 ($200 savings) while supplies last.
Nineteen brand new mid-2013 MacBook Airs
Finally, shipments of Apple's new all-day power 11- and 13-inch MacBook Airs continue to make their way into the company's reseller channels this week, with 19-configurations now offered to readers via the Mac Price Guide at additional discount and tax-free in all but eight states.

MacMall now has 14 different 2013 MacBook Air configurations in stock and ready to ship as of press time (models highlighted in green), with the remaining configurations shipping in just a few business days.
AppleInsider readers who choose to purchase from MacMall can use the links in our Price Guides or in the Price Guide inserts in this article to activate the Promo Code field on MacMall's product pages for all MacBook Airs, MacBook Pros and iMacs that they stock. Entering Promo Code APPLEINSIDER01 and then clicking "Apply" will knock an additional 3% off MacMall's already discounted pricing on these Macs.
The 3% discount is available only when ordering online and online orders are processed in the order they are received. It's also worth noting that unlike stores like Apple, Wal-Mart, and Target, MacMall only collects sales tax in CA, IL, NY, TN, MN, GA, NC, WI.
New MacBook Airs
New MacBook Airs with 3-years of AppleCare Protection
Meanwhile, readers who looking to bundle their new MacBook Air with 3-years of AppleCare Extended Warranty Protection can also use the links in our New Macs + AppleCare Price Guide for exclusive pricing on MacBook Air+AppleCare bundles from B&H (segment below). The Manhattan-based super store is the largest authorized Mac reseller by volume in all of Manhattan, and also only charges sales tax on orders shipped to its home operating state of New York. The prices in this price guide are for Macs with the cost of the discounted 3-Year AppleCare protection plan factored in.