Apple's iPhone 5 estimated to have sold more than 2X faster at launch than Galaxy S4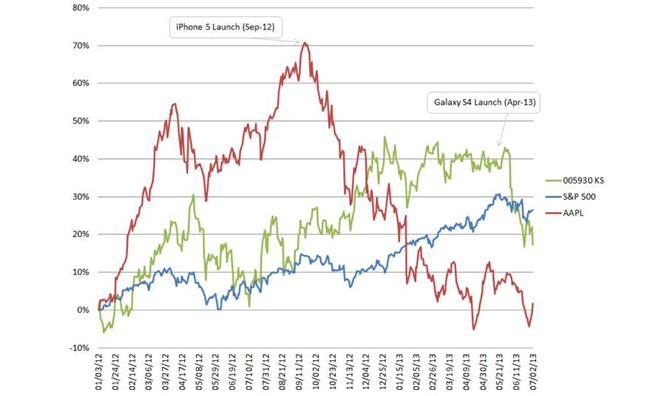 Following a report that Samsung has shipped 20 million units of their new Galaxy S4 smartphone, one analyst has estimated that it took Apple less than half as much time to ship the same amount of iPhone 5 units.
As Apple doesn't break down iPhone sales by model, Brian Marshall from ISI Group looked to official opening weekend numbers and quarterly earnings reports to determine his estimates provided to on Friday. Marshall's estimates took Apple around 25 days to hit the 20 million mark, possibly beating Samsung by over a month.
The estimates suggest that over the first 25 days of iPhone 5 availability, Apple shipped 805,000 units per day. In contrast, Samsung shipped less than half of that — about 333,000 Galaxy S4 units — per day.
In May, just weeks after the Galaxy S4 became available, Samsung announced they had shipped 10 million units In comparison, it took the S4's predecessor, the Galaxy S III, as many as 50 days to reach 10 million units shipped.
Then this week, reports claimed that the Galaxy S4 has reached shipments 20 million units as June came to a close. That would make it Samsung's most popular device to date.
Last fall, Apple announced sales of five million iPhone 5 units during opening weekend alone. In the first full quarter that the iPhone 5 was available, Apple reached shipments of 48 million total iPhones, including previous-generation iPhone 4S and iPhone 4 models.
Though the Galaxy S4 is breaking Samsung's sales records, demand for the latest Samsung smartphone is rumored to have cooled just months after its release. In June Samsung's market capitalization fell by $12.4 billion to $187.8 billion after a note from J.P Morgan claimed third-quarter sales would disappoint investors.
Similarly, the markets have also reacted negatively to reports of alleged slipping demand for Apple's iPhone 5. As such, anticipation has begun to build for Apple's next-generation handset, unofficially referred to as an "iPhone 5S," which is expected to debut as soon as September.
ISI Group continues to list shares of AAPL as a strong buy with a price target of $600. The investment firm expects numerous new devices — including a new high-end iPhone, a low-cost iPhone, and potentially even an iPhone with a 5-inch display — over the next nine months.