10M Samsung flagship phones in 28 days a 'record,' 5M iPhone 5 in 3 days 'disappointing'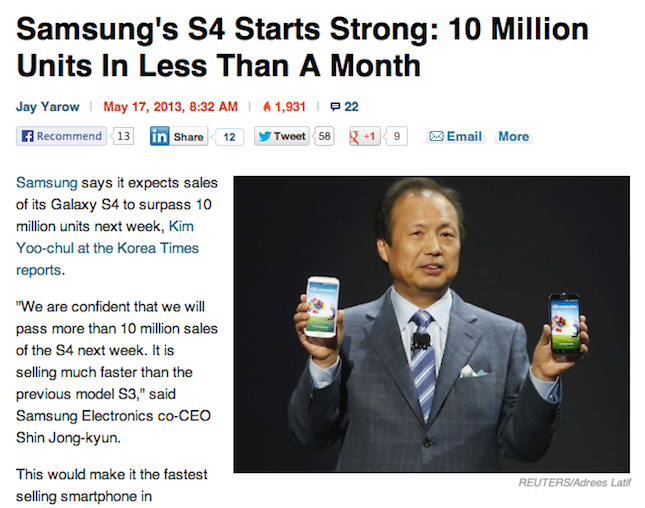 Samsung earned industry praise for estimating that it expected to ship 10 million units of its flagship Galaxy S4 to carriers in its first month on the market, six months after the same journalists voiced disappointment that Apple had sold "only" 5 million iPhone 5's in its first 3 days.
A report by Philip Elmer-DeWitt of the Fortune Apple 2.0 blog drew attention to the stark contrast in media coverage on the two companies after one of Samsung Electronics' three chief executives told reporters that the company had shipped 6 million units to carriers globally and expected shipments to hit 10 million next week, the fourth week the new phone has been available for sale.
The report cited the Korea Times as describing the shipment numbers as making the new phone the "fastest-selling selling smartphone in Samsung's history." The story was picked up around the world with headlines like Business Insider, which ran "Samsung's S4 Starts Strong: 10 Million Units In Less Than A Month."
But as Fortune pointed out, that same outlet responded to Apple's 3 day launch weekend of 5 million units sold with the all caps headline "IPHONE 5 OPENING WEEKEND SALES COME IN WORSE THAN EXPECTED."
As Elmer-DeWitt observed, "That kind of coverage must drive Tim Cook crazy."
Sales vs Shipments
On top of the disparity in slant on coverage, Apple's announced numbers were not just channel inventory shipments to global carriers; they were actual sales to customers, and those sales were constrained by supply issues.
As Apple's sole chief executive Tim Cook noted last September, "Demand for iPhone 5 has been incredible and we are working hard to get an iPhone 5 into the hands of every customer who wants one as quickly as possible.
"While we have sold out of our initial supply, stores continue to receive iPhone 5 shipments regularly and customers can continue to order online and receive an estimated delivery date. We appreciate everyone's patience and are working hard to build enough iPhone 5s for everyone."
Samsung's channel vastly larger
Additionally, Samsung's inventory deployment counted shipments to carriers in 60 countries, including Korea, China, India and the U.S.Samsung's inventory deployment counted shipments to carriers in 60 countries, including Korea, China, India and the U.S. Apple launched iPhone 5 in just 9 countries.
Apple launched iPhone 5 in just 9 countries: U.S., Canada, the U.K., Germany, France, Australia, Japan, Hong Kong and Singapore. A week later, long after selling those first 5 million units, it added 22 more countries, mostly in Europe.
That was still less than half the launch countries Samsung shipped its initial Galaxy S4 units to, but Samsung also has more carriers in those countries than Apple. That includes carriers like T-Mobile, which didn't get iPhone 5 until April 12, six months after its original launch.
Despite the late start, the carrier still reported half a million iPhone 5 sales in its first month of selling the iPhone.
A research note by Toni Sacconaghi of Bernstein Research observed that "distribution for the iPhone, at ~240 carriers is significantly lower than Samsung and Nokia, which have essentially global distribution, and Blackberry, which is distributed by >2x the number of carriers."
Apple's country launches much slower than Samsung
Additionally, despite the fact that iPhone 5 marked Apple's fastest global release ever for a smartphone, the new smartphone didn't reach many large markets, including India, until November 2, a launch date for several additional countries that was actually delayed a week due to supply issues.
Samsung still mostly sells cheap, old smartphones
Samsung does continues to sell more mobile devices than Apple. While it refuses to say how many, IDC estimates that Samsung shipped 70.7 million smartphones in the first quarter of 2013, compared to Apple's announced sales of 37.4 million iPhones.
Shipments of Samsung's high end Galaxy S4 therefore only account for about 14 percent or 1/7th of its smartphone shipments. That compares unfavorably to Apple's estimated mix of iPhone models, which, while Apple doesn't detail figures publicly, analysts have complained that "only" about half of Apple's iPhone sales are its latest iPhone 5 model.
Samsung's smartphone sales are dominated by low end, low profit models that run outdated versions of Android that aren't updated and that aren't even capable of running some of the latest software from Google.
Not only are all models of Apple's iPhone shipped with the latest version of IOS, but users can expect to get regular updates for at least 3 years after a model hits the market.
Hype around Galaxy S4 "complete nonsense"
In response to the tech media's flawgic fawning over the Galaxy S4, analyst Brian White of Topeka Capital Markets noted last month that Samsung's latest phone was "heavier, fatter and less refined than the iPhone 5."
Those sentiments were echoed by Gene Munster of Piper Jaffray, who called the model merely "evolutionary" and wrote "we view the S4 as unlikely to meaningfully impact iPhone share of the high-end over the full year, but do expect it to take share from other Android phones."
White added, "we are amazed by how analysts and the media have turned on Apple during the recent stock downdrafts with statements that Samsung is 'out-innovating' Apple. One would believe that Samsung is crushing Apple in the mobile phone market. We believe this is complete nonsense."