Google Play takes top spot in downloads, but Apple's App Store still tops revenue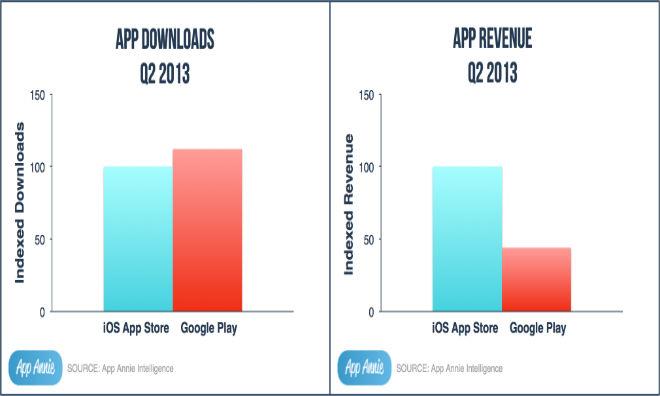 AppleInsider may earn an affiliate commission on purchases made through links on our site.
Based on sheer volume of downloaded apps, Google Play for Android has finally surpassed its rival app repository, according to the latest study, but the App Store still maintains a strong edge in terms of revenue generated for developers.
The newest figures come from the App Annie Blog, which measured app downloads in the second quarter of 2013, along with other indicators. App Annie found that Google Play downloads exceeded App Store downloads by 10 percent in the quarter, attributing that growth in no small part to app download growth in developing markets such as Russia, China, Brazil, and India.
That Google Plau has only just now surpassed the App Store in terms of downloads is likely a testament to the greater engagement of iOS device owners with their devices. Android is estimated to run roughly three out of four mobile devices shipped worldwide, but at least one-third of those are running a years-old version of the Android OS, meaning that they may not be as well able to access recent apps, and their users may not be downloading as many apps.
Google Play, the search giant recently revealed, has also surpassed the App Store in terms of overall app volume. The Play Store now counts more than one million apps in its library, while the App Store, according to last count, has just over 900,000. Apple's offering, though, bests Google when it comes to tablet-optimized apps, with 375,000 apps built for the iPad while Google struggles to get developers to optimize their apps for the myriad Android tablets.
The App Store also bests Google in what may be the most important category: overall revenue generated both for the store and for developers hosted therein. App Annie's study found that the App Store generated 2.3 times the revenue of the Play Store, despite the Play Store's 10 percent advantage in overall downloads. That figure was slightly down from the 2.6x figure App Annie found in its last examination of the market.
That revenue gap has resulted in a tremendous edge for Apple in terms of app quality and developer loyalty. Developers with App Store offerings have made more than $11 billion in sales since the store's opening, with half of that coming in the last four quarters.
In terms of revenue, the United States, Japan, and the United Kingdom retained the top three spots among iOS revenue generators, while China slipped one spot to fifth place and Australia rose one spot to fourth place. Japan, South Korea, and the U.S. were the top three revenue-generating countries for Google Play, with Germany and the United Kingdom rounding out the top five.
The U.S. and China still make up the top two markets for app downloads on both platforms. The two countries accounted for about 40 percent of all downloads from the iOS App Store in the past quarter. Apple has continually expanded its efforts to get the Chinese to adopt its products, viewing the world's most populous country as a huge opportunity. Most recently, Apple CEO Tim Cook met with the head of China's largest wireless carrier, likely with the intent of discussing bringing Apple's next iPhone, and perhaps a cheaper iPhone, to that network.