Apple Inc. retakes title as world's most valuable company following strong July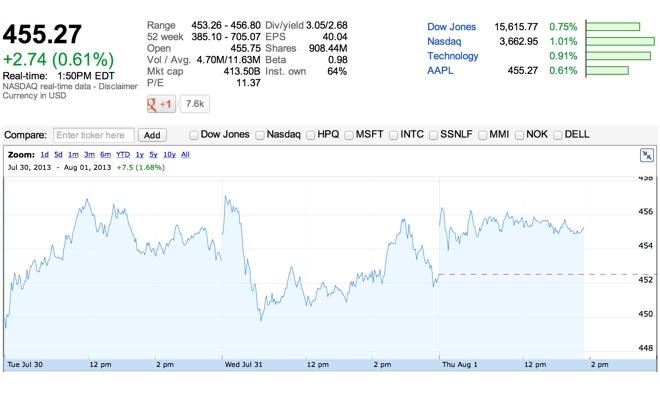 AppleInsider may earn an affiliate commission on purchases made through links on our site.
Apple on Thursday once again became the most valuable company in the world by market capitalization, pushing past Exxon Mobil as rumors of next-generation iPhones and iPads continue to heat up.
Apple's market cap was around $414 billion during trading on Thursday, with the company's stock up as high as $456.80 in the morning session. Exxon, meanwhile, saw shares slide more than 2 percent during the morning, sending its market cap to around $408 billion, following a disappointing earnings report.
The change made Apple, at least temporarily, once again the most valuable company in the world by market cap. It's a title the company held throughout 2012, but ceded after its stock went tumbling late in the year and through the first half of 2013.
Over the last month, shares of AAPL have surged nearly $50. However, Apple is still off about $100 from the start of 2013, and remains well below its peak north of $700 reached last September.
Exxon overtook Apple's market cap in late January of this year, amidst a continued selloff of AAPL stock. At the time, Apple was worth about $413 billion, not far from where it was as of Thursday afternoon.
After a few quarters with relatively flat growth, investors are hopeful that Apple can once again gain momentum this fall, particularly with the anticipated debuts of new iPhones and iPads. Among the products expected are a so-called "iPhone 5S," a new low-cost iPhone, a thinner and lighter fifth-generation iPad, and a second-generation iPad mini.