Purported 'iPhone 5S' camera module has separate LED flash component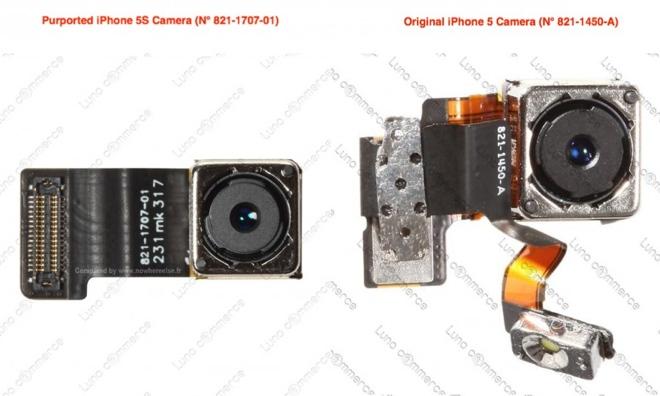 In an alleged internal design change, the camera for Apple's next-generation iPhone may have its LED flash component completely independent from the lens.
Pictures of the alleged "iPhone 5S" component were published on Wednesday by Nowhereelse.fr, showing a standalone camera attached to a ribbon. That would be a change from the current iPhone 5, where the LED flash has a ribbon attached to the same component.
It's rumored that Apple's next flagship iPhone will feature dual LED flash that will allow for better illumination of photos in low-light situations. Leaked schematics obtained by AppleInsider have shown that the two LED flash parts will be included in a "pill" shaped window on the back of the device, to the right of the lens.
The camera module pictured Wednesday was actually shown previously, but those initial reports claimed it was a part intended for Apple's low-cost iPhone. However, that may have been a mix-up, as the same part has now surfaced from a Chinese supplier being labeled as a part for Apple's so-called "iPhone 5S."
The part gives no indication as to the quality of the camera, though earlier rumors have suggested that the "iPhone 5S" will sport a 12-megapixel shooter capable of high dynamic range images and better nighttime photos. The current iPhone 5 has an 8-megapixel lens that was carried over from the iPhone 4S, though Apple added a sapphire glass lens assembly to protect against scratches.
Well-connected analyst Ming-Chi Kuo of KGI Securities said last month that he expects the "iPhone 5S" will be in short supply when it launches this fall. In particular, Apple's next-generation iPhone is rumored to feature a fingerprint sensor beneath the home button for securely identifying users.