'Overwhelming response' leads to Apple limiting iWork for iCloud.com access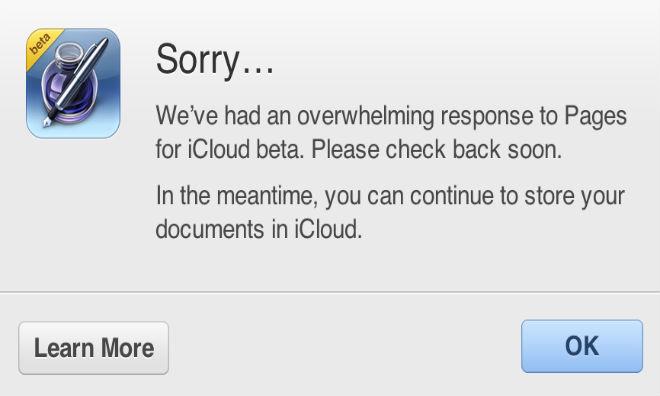 Apple is now limiting access to its iWork for iCloud beta, citing an "overwhelming response" to the iCloud-enabled productivity suite.
The new restrictions on access to the iWork beta appear to stretch across the entire productivity suite, with Pages, Keynote, and Numbers all informing users of the aforementioned "overwhelming response." Users are asked to "check back soon" on when the service might become available for them, and in the meantime, they are still able to store presentations on iCloud.
Apple's notice gives no notice on when the service might become more widely available.
Since rolling out the beta, Apple has been gradually expanding access to the service to users. Shortly after iWork for iCloud's public debut, the company began making it available to some non-developers. In mid-July, Apple opened iWork for iCloud to non-developers, sending out invites to a number of potential participants.
First announced at this year's Worldwide Developer Conference, iWork for iCloud is meant to take apple's productivity suite to another level, offering access not only on Macs, but also on Windows PCs running Google's Chrome browser, Internet Explorer, or Apple's Safari. The suite reproduces most of the functionality of Apple's existing desktop iWork offerings, but with the added portability enabled by being browser-based.