Windows 8 jumps past Apple's OS X with 7.4% market share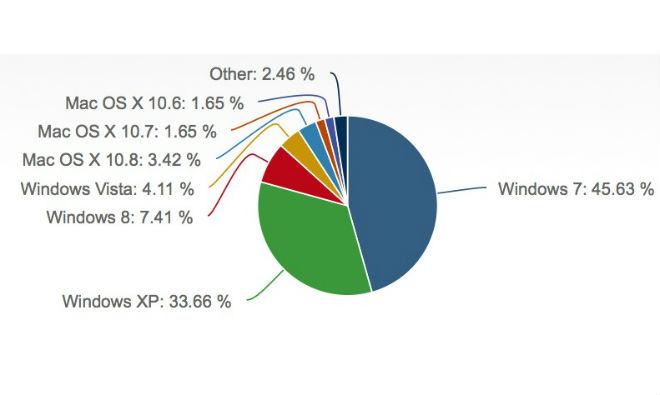 It hasn't been nearly as successful as Microsoft hoped and promised a year ago, but the Windows 8 platform continues to inch forward in market share, most recently surpassing the overall installed base for Apple's Mac OS X.
The latest figures from Net Applications show Windows 8 with a 7.4 percent share of all desktop OS web traffic for August. That's up from the 5.4 percent share the OS held at the beginning of August, a jump of two percentage points.
At the beginning of July, Windows 8 had just barely passed Microsoft's much maligned Windows Vista OS in terms of share, but it still trailed Mac OS X. Now, the new touch-centric OS has surpassed Apple's desktop platform — with 7.41 percent share for Windows 8 versus 7.3 percent for all OS X installs — but Apple's dominance in tablets means that it is still beating Windows 8 where most observers believe it counts.
The iPad and competing Android-powered devices have proved especially troublesome for Microsoft to overcome. The Redmond, Wash.-based software giant tried to parlay its dominant position in the older computing environment into a foothold in the new mobile paradigm, but its attempts have sputtered, leaving both Microsoft and its many hardware manufacturing partners grasping as Apple and other mobile manufacturers grab the majority of consumer mindshare.
Windows 7, the follow up to Windows Vista, remains the most popular desktop operating system in the world with a 45.6 percent share, up from 44.5 percent in July. The next most popular is Windows XP, released in August of 2001 but still running on 33.66 percent of sampled desktops. Windows Vista accounted for only 4.11 percent share.
October will see the release of Windows 8.1, an altered version of Windows 8 that adds more functionality and gives back a certain degree of user choice with regard to interface options. Industry analysts, though, are uncertain how well the new version of the OS can do in reversing the general downward trend in PC sales.