Rumored 'iPad mini 2' and 'iPad 5' shells get detailed comparison in new video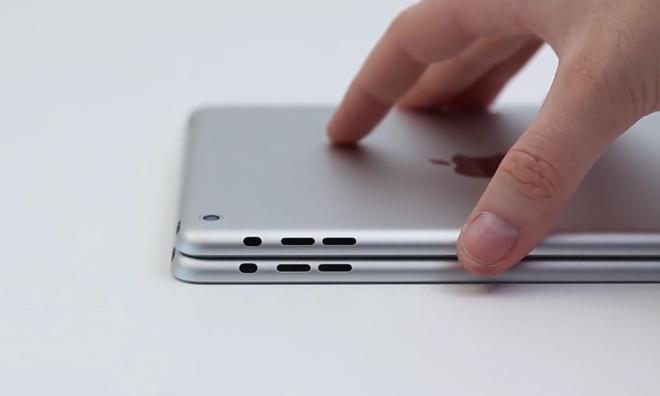 AppleInsider is supported by its audience and may earn commission as an Amazon Associate and affiliate partner on qualifying purchases. These affiliate partnerships do not influence our editorial content.
Following up on a video released on Tuesday, a new high quality clip has hit the Web comparing and contrasting rear aluminum shells of Apple's purported next-generation iPad mini and full size iPad.
The short video, uploaded to Unbox Therapy's YouTube channel, features what appears to be "leaked" rear casings supposedly bound for Apple's next-generation iPad and iPad mini. While pictures of the parts have been circulating for some time, the clip offers a closer look at how the two tablets may compare when released.
In Wednesday's comparison, the shells' dimensions were compared and contrasted. Most interesting is a nearly identical thickness, or depth, suggesting the upcoming 9.7-inch iPad has slimmed down from the current generation.
Both shells share the same design carried over from the existing iPad mini, with curved, non-tapered edges and a substantially flat back. The shared design would bring parity to Apple's tablet lineup, making a decision to buy more about specifications than looks.
Also of note are the "mirrored" Apple logos, which look to be made of polished metal. The current iPad features a plastic covered cutout that doubles as an antenna window, while the iPad mini's Apple logo is merely polished out of the aluminum case.
Unsurprisingly, the supposed next-gen iPad mini shell bears no significant changes from the current model. There has been little to no talk of major design changes since iPad mini rumors began to circulate earlier this year. Most speculation has been concerned with internal upgrades, or more specifically, the inclusion of a Retina display.
Whether the next-gen mini will boast a high-resolution screen like its bigger brother is a hotly contested topic, though reports from August claim Apple's display suppliers are already ramping Retina panel production for a fall launch.