First images of purported 'iPhone 5C' logic board show minor design changes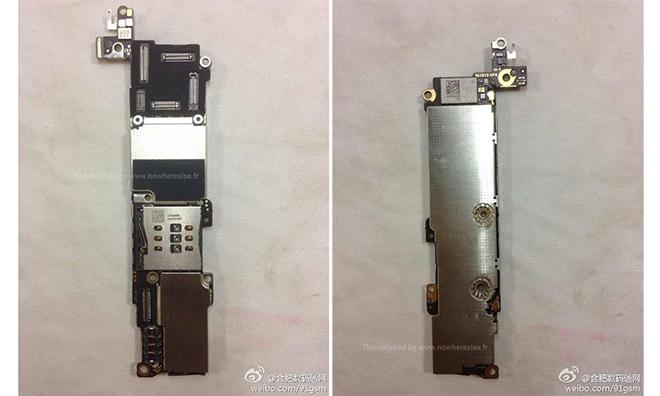 A batch of photos claiming to show the logic board bound for Apple's rumored low-cost "iPhone 5C" hit the Web on Saturday, with the alleged part showing minor design changes from the current iPhone 5.
As seen above, not much can be gleaned from the images posted to Chinese microblogging site Sina Weibo (via Nowhereelse.fr) as protective EMI shielding obscures much of the internal circuitry. The sections left uncovered, however, do reveal a few subtle tweaks from last year's iPhone 5.
At the top of what is thought to be the front of the logic board sits five connection points that assumedly branch out to the unit's display, microphones and speakers, cameras and other functional components. This area also shows the biggest change.
On the iPhone 5 logic board, an STMicroelectronics three-axis accelerometer is positioned just above the first EMI shield that covers Apple's A6 SoC. With the purported 5C board, it appears that the accelerometer has been repositioned, or is hidden beneath the black covering surrounding the connectors.
The next structure is completely obscured, but should be an A-series chip as the shielding is almost identical to the part found on iPhone 5's logic board. It is not yet known what processor the iPhone 5C will use, though some industry watchers believe Apple will rely on existing technology to keep build costs down.
Next, the nano-SIM port is clearly seen situated above another shield, likely covering the phone's modem and RF transceiver communications package. The battery connector is to the left of this covered ares.
Finally, the backside of the board shows a monolithic piece of EMI shielding and what looks to be an antenna connector seated next to gray structure similar to the Wi-Fi module on the iPhone 5. We note that one of the flex cable connection points has been moved to the front of the logic board.
Apple is widely expected to launch the iPhone 5C alongside a next-generation iPhone 5S at a special media event on Tuesday. A rollout is anticipated for Sept. 20, which will likely bring a closer look at the handsets' inner workings as device teardowns get underway.