Apple promises to 'brighten everyone's day' at Sept. 10 iPhone announcement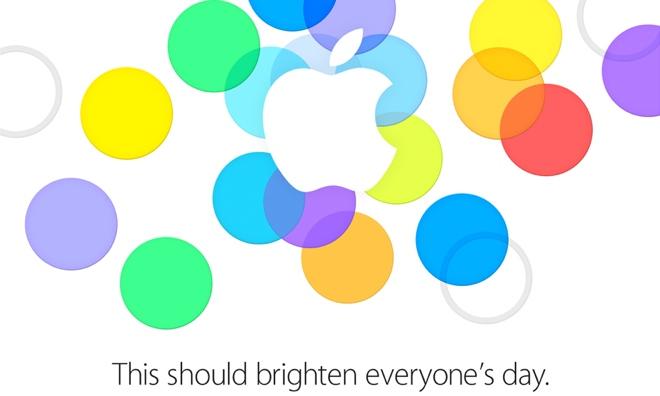 AppleInsider is supported by its audience and may earn commission as an Amazon Associate and affiliate partner on qualifying purchases. These affiliate partnerships do not influence our editorial content.
Apple on Tuesday sent out invitations for a media event next Tuesday, Sept. 10, at which the company is expected to show off its next-generation iPhone models that will come in a new range of colors.
Apple's Sept. 10 media invitation, via The Loop.
The invitation indicates that the event will kick off at 10 a.m. Pacific, 1 p.m. Eastern, according to The Loop. It will be held at Apple's corporate headquarters in Cupertino, Calif.
Though the invitation itself makes no mention of the iPhone, it does say that the announcement "should brighten everyone's day" — a likely reference to the fact that Apple is expected to offer its next iPhones in an array of new colors. Specifically, leaked parts have suggested "iPhone 5S" will be available in a new "champagne" shade, while a low-cost plastic "iPhone 5C" will potentially be available in white, green, red, blue, pink, and possibly more.
Colors featured in the invitation include yellow, green, orange, white, red, pink, and shades of dark and light blue. Apple's forthcoming iOS 7 update is also a more vibrant and colorful update to the company's mobile operating system.
What to expect: "iPhone 5S"
Apple may have some surprises in store for fans and observers when Chief Executive Tim Cook presumably takes the stage next Tuesday, but the event is widely expected to center on the Cupertino, Calif., company's largest revenue generator: the iPhone. It will likely see the unveiling of the successor to the iPhone 5, currently thought to be named the "iPhone 5S."
The company's next-generation premium smartphone is expected to include a fingerprint sensor embedded in the home button. Last year, Apple purchased AuthenTec, a biometric security firm, potentially setting the stage for the defining feature of this year's iPhone.
Integrating a fingerprint sensor — a move that would largely negate the need for passwords and lock-screen codes — could give Apple an edge that its competition could not likely soon address.
Apple's "S" series iPhones have typically been refinements of the models immediately preceding them, and most of the rumors surrounding the "5S" have been in that vein. Leaked cases for the device have shown that it will retain the same form factor as the iPhone 5, though it may be available in a "champagne" color option, as well as the existing black and white models.
Analysts expect a 31 percent faster "A7" chip that could be 20 percent more power efficient than the A6 seen in the iPhone 5. It may also feature a dedicated motion-tracking chip to enable a new range of user interactions.
Apple is also rumored to offer a model of the device with 128 gigabytes of storage, while the camera is expected to be upgraded with a dual-LED flash component for better low-light pictures. It's likely that the camera itself will also see improvements.
What to expect: "iPhone 5C"
Perhaps the most widely leaked device, though, has been the expected lower-cost plastic iPhone. That model is believed to be called the "iPhone 5C," and recent leaks of an apparent user manual seem to confirm that name.
Observers believe that Apple will largely repackage the internals of the existing iPhone 5 into a polycarbonate shell to lower manufacturing costs. To differentiate the device, the "5C" would be available in a range of colors.
The move back to polycarbonate for the chassis would allow Apple to offer the "iPhone 5C" at a much lower price point than the premium-built iPhone 5 or anticipated "iPhone 5S." That lower price could give Apple a better chance of picking up mid-range smartphone customers, who often choose Android phones when upgrading from feature phones simply due to price.
Most importantly, though, a lower-cost iPhone would give Apple a much better chance of competing in the world's largest smartphone market: China. Investment firm UBS opined in August that an affordable iPhone would move more than 11 million units on China Mobile alone.
Almost certainly, the Sept. 10 event will also mark the announcement of a release date for Apple's newest mobile operating system, iOS 7. The new platform, revealed at this year's Worldwide Developer Conference, features an almost complete visual overhaul, with many of the features of previous iOS versions giving way to a "flatter" aesthetic spun out of the leadership of Jony Ive, Apple's design chief.
Aside from the new look, iOS 7 will also feature iTunes Radio, a new music streaming service that will take on Pandora, Spotify, and other services. It will also come with improvements to Siri, allowing Apple's digital assistant to display more information and control phone settings, and tweaks to the Camera app, giving users access to more editing options.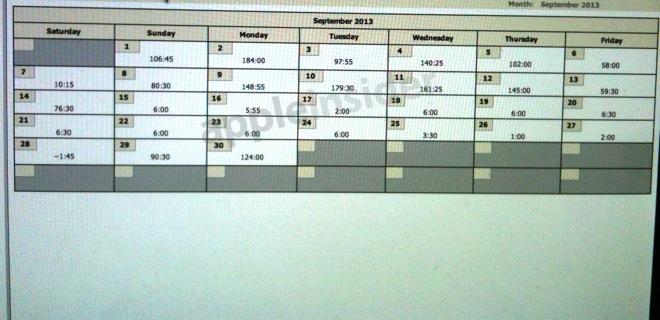 As first reported by AppleInsider last week, Apple has begun blocking vacation dates for its AppleCare support staff from Sept. 15 through 28 in preparation for major product launches. Based on prior years' release schedules, it's likely that the new iPhones will become available on Friday, Sept. 20.
Apple's new mobile operating system, iOS 7, will likely see availability a few days before that, perhaps on Wednesday, Sept. 25. A golden master of iOS 7 is expected to be provided to developers after next week's media event.
AppleInsider will have extensive coverage of Apple's fall 2013 iPhone lineup leading up to next Tuesday's event, as well as full, live reports on the media briefing as it happens.