New iPhone 5s camera with slow-mo 120fps video demonstrated at Burberry fashion show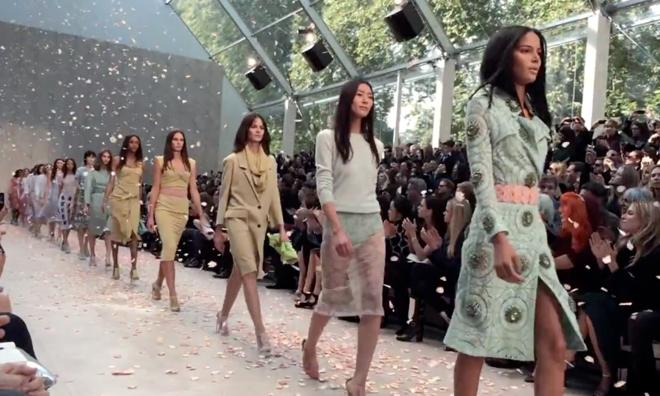 A pre-release iPhone 5s was used to shoot Burberry's latest runway show, showcasing some of the features of the new iSight camera such as its larger aperture and 120-frames-per-second slow-motion video capabilities.
The full show of the Burberry Prorsum Womenswear S/S14 show appeared on Burberry's YouTube page on Tuesday. Apple announced the collaboration last week, noting that behind-the-scenes footage, product details, and preparation footage would accompany shots of the London runway show.
"This collaboration celebrates our relationship and shared foundation in design and craftsmanship. We have a mutual passion for creating beautiful products and unlocking emotive experiences through technology, which has made it intensely exciting to explore the capabilities of iPhone 5s," said Burberry CEP Christopher Bailey. "We're inspired by what this could mean for the future as we continue to explore the merging of physical and digital experiences."
Apple has long touted the imaging capabilities of its bestselling smartphone line, noting that it is the most popular camera in the world. That tradition continues with the Burberry shoot, which is meant to show off the HD recording capabilities and image quality of the reworked iPhone 5s camera.
The iPhone 5s features the same 8-megapixel resolution of its predecessor, but Apple has given the device a slightly larger sensor in order to improve imaging in low-light conditions. It also has a reworked five-element lens wit ha larger f/2.2 aperture. Apple also swapped out the single flash featured on the iPhone 5 for a dual LED flash unit called "True Tone," which should help keep flash-aided images from looking washed out.
On the video end, the iPhone 5s also has a 120-frames-per-second slow-motion video mode and precision autofocus matrix metering.
The Burberry collaboration is Apple's most recent meeting with the world of fashion. The iPhone maker recently hired Paul Deneve from French fashion house Yves Saint Laurent. Deneve will be working on "special projects" — presumed by some to be a kind of wearable technology — and reporting directly to Apple CEO Tim Cook.