Piper Jaffray: Apple will likely sell 5-6M iPhones over launch weekend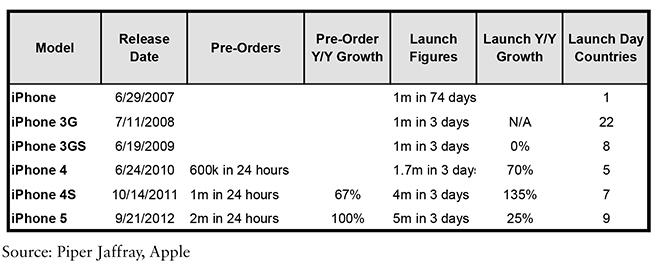 Although Apple has yet to announce preorder numbers for its iPhone 5c, one of two new iPhones being launched on Friday, one analyst believes the company will likely hit 5 to 6 million combined unit sales this weekend.
According to Piper Jaffray analyst Gene Munster, Apple will sell out of all iPhone 5s handsets produced for the launch window, adding to an expected 3 million iPhone 5c sales over the same three-day period. Compared to last year's iPhone 5 launch weekend, which itself saw record breaking 5 million units sold, the prediction could mean significantly higher numbers contingent on iPhone 5s supply.
Munster based his forecast on iPhone 5 in-store launch sales, which was indicated to have numbered at roughly 3 million. Those units combined with 2 million preorders to reach the 5 million units sold last year.
"Given last year's in-store sales numbers, we are comfortable that Apple could sell 2.5 million iPhone 5S units this launch weekend," Munster said in a report to investors. "Our estimate for the 5C is 3 million units sold during the launch weekend including 1 million online pre-orders and 2 million in stores."
Echoing recent rumors that speculated Apple's decision to nix iPhone 5s preorders was a sign of low inventory, the analyst believes stock will indeed be constrained. Some reports described U.S. inventory as being "grotesquely" low, but no solid metrics were offered.
The final tally is highly speculative given the lack of insight into iPhone 5s inventory.
By region, Munster estimates China, which is for the first time taking part in a worldwide iPhone launch, will take 10 to 15 percent of unit sales.
If Apple does not announce launch weekend sales, something the company has done since the iPhone 3G in 2008, Munster would take it as a sign that sales were below 5 million units. He cautions against buying into the negative press such a scenario will inevitably garner, however, noting iPhone 5s constraints should factor into investors' thinking.
Instead of reading into hard numbers, Munster advises paying attention to demand by observing how fast the 5s sells out. For reference, the iPhone 5 was mostly sold out by Saturday last year.
Apple is slated to start sales of both the iPhone 5s and 5c at its retail stores from 8 a.m. local time.