iPhone 5s demand healthy, margins for 5s and 5c higher than iPhone 5, analyst says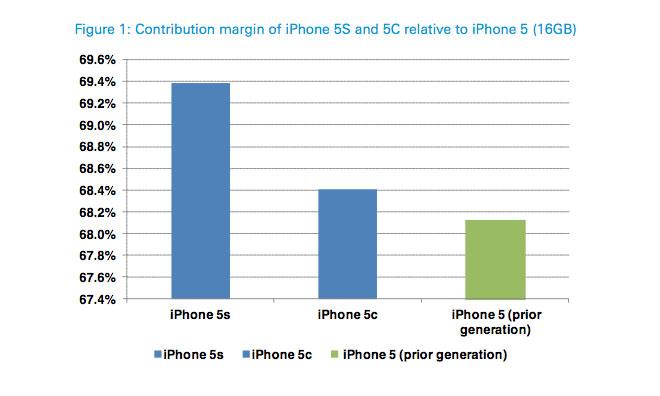 Apple's new flagship iPhone 5s and mid-range iPhone 5c contribute more value to Cupertino's profit margins than their predecessor, the iPhone 5, according to one Wall Street analyst.

iPhone 5s and 5c margin relative to iPhone 5 | Source: Deutsche Bank and IHS
A report provided to AppleInsider Monday by Chris Whitmore of Deutsche Bank suggests that Apple's new iPhones may yield higher margins than the previous generation, with the 16-gigabyte iPhone 5c providing a 50-basis-point, or 0.5-percent, bump and the 16-gigabyte iPhone 5s driving a full 1 percent increase as compared to the same capacity iPhone 5. As a result, Whitmore said he expects the handsets to be "very beneficial" to Apple's bottom line, despite the currently limited supply of the iPhone 5s.
Whitmore has based the margin profiles of the devices off of third-party teardown data from IHS, which pegs the iPhone 5s bill of materials, or BOM, at $199 versus $207 for the iPhone 5, even with the addition of the new Touch ID fingerprint sensor and redesigned, sapphire crystal home button. Whitmore noted that "the incremental cost for the fingerprint sensor is entirely offset by cost improvements across most other categories," notably a $3 drop in the cost of the Retina display and a $5 decrease for the Sony camera module.
The iPhone 5c comes with a significantly improved $174 BOM, according to the analysis, a 16 percent drop from the iPhone 5. The decrease is attributed largely to the iPhone 5c's plastic rear housing, which contributes $13 to the difference. Lower prices for the camera and processor, which are unchanged from the iPhone 5, bring a further $7 and $4.50 reduction, respectively.
There seems to be some disagreement from competing analysts about exactly how much it costs Apple to make the new iPhones. A similar report from UBS, obtained by The Wall Street Journal, put the BOMs at $213 and $156, respectively, for the iPhone 5s and 5c. UBS believes profit margins for the two devices to be between 45 to 55 percent, a difference partly attributable to higher manufacturing costs, which include freight in UBS's calculation.
A point which seems universally accepted, however, is that demand for the iPhone 5s remains strong, despite sharp constraints on supply. Whitmore checked 20 Apple retail stores in the United States, the United Kingdom, and Australia, and responses indicate that iPhone 5s units are selling out nearly as fast as they arrive. Stores are advising customers to call ahead to check stock, and to shop early in the morning in order to have the best chance to find their device in stock.
According to the report, one customer service representative advised Whitmore that "demand's been so high [for the iPhone 5s] that we run out of stock in about 30 minutes." Online channel checks returned similar results for the iPhone 5s, with lead times from Apple and its major U.S. carrier partners at approximately 38, 21, and 24 days for the gold, space gray and silver models, respectively.
iPhone 5c units, conversely, continue to show immediate availability in all channels, both brick-and-mortar and online, with all colors and storage capacities well represented. Whitmore noted that some Apple retail associates reported customers upgrading from iPhone 4 or 4s units were often willing to upgrade to the iPhone 5c rather than wait for availability of the iPhone 5s, saying "the 5C is quite good and a lot of customers who can't get the 5s haven't minded upgrading to a 5c."
Whitmore believes that the lean inventory of the iPhone 5s, which was released alongside the iPhone 5c to record-breaking opening weekend sales just 10 days ago, combined with the rumored October iPad refresh that is expected to bring a redesigned iPad 5, positions Apple "to deliver a strong holiday quarter."