Video shows purported space gray 'iPad 5' casing with black front bezel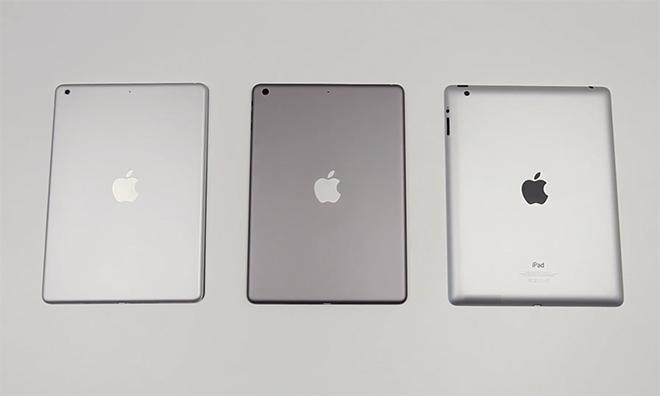 AppleInsider may earn an affiliate commission on purchases made through links on our site.
One week after high-quality images of a supposed next-generation space gray iPad casing popped up on the Web, a video highlighting the same part has been uploaded to YouTube.
The video comes from YouTube channel Unbox Therapy, which in September provided an in-depth look at the aluminum shells allegedly bound for Apple's next-generation iPad. Previously, only high-resolution photos of the purported part were available.
Tuesday's video shows a quick comparison of the purported 9.7-inch iPad's rear casing in Apple's new "Space Gray" color, meant to be a replacement for the outgoing "Slate." The hue was first introduced with the iPhone 5s and has subsequently trickled down to other iOS products like the iPod touch and iPod nano.
The space gray iPad shell is largely similar to the silver version shown off last month, the only change major aesthetic change being a black front bezel. Also noticeable is the like-colored ring insert around the rear-facing camera, which on the silver version looks to be polished to a shine or unanodized.
Interestingly, the space gray casing is not fitted with the embedded magnets used to attach Apple's Smart Covers, suggesting the part is a prototype or an early production component. It is also possible that the part may be a copycat, though the complex internal structure and external design is largely similar to previously "leaked" parts.
Apple is expected to announce a fifth-generation iPad in the coming weeks, with some rumors pointing to an Oct. 15 event that may also feature refreshed MacBook models.
The next-gen full-size iPad is also said to sport a revamped design that will bring it more in line with the current iPad mini. Instead of a tapered chassis, the new unit will supposedly feature a largely flat back with curved edges leading to a highly polished chamfer feature running along the screen's bezel, which will be substantially thinner than the fourth-generation iteration.