Apple's iPhone 5s tops sales charts at big 4 US carriers, iPhone 5c close behind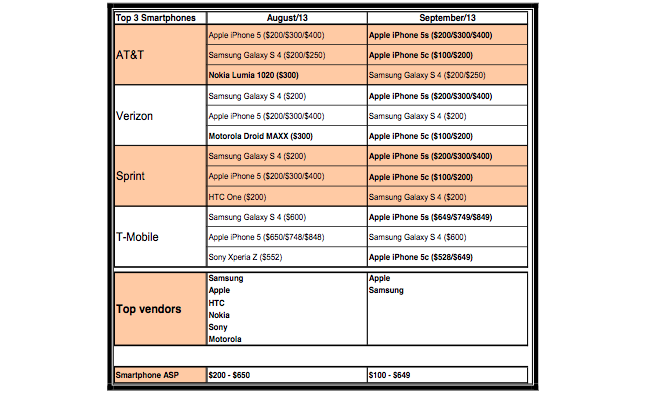 AppleInsider may earn an affiliate commission on purchases made through links on our site.
Cupertino's flagship iPhone 5s was the best-selling smartphone for all four major U.S. carriers — AT&T, Sprint, Verizon, and T-mobile — while the new iPhone 5c followed closely behind, according to new tracking data.

The smartphone market shifted wildly following Apple's September iPhone refresh | Source: Canaccord Genuity monthly wireless store surveys
Apple's new flagship iPhone 5s and mid-range iPhone 5c were both among the top three sellers for the big four United States wireless carriers in September, investment bank Canaccord Genuity said Friday. The Touch ID-enabled iPhone 5s and new, colorful iPhone 5c took first and second place, respectively, for AT&T and Sprint but the iPhone 5c was pushed down one notch by Samsung's Galaxy S4 at Verizon and T-Mobile retailers.
The new iPhones vaulted Apple back atop the leader board as the top-selling smartphone vendor in the United States in September, a position held by Samsung for the preceding three months. Helping the company along were reportedly healthy sales of the three-year-old iPhone 4S, which customers can get for free on a two-year contract.
Canaccord notes that their research showed "very strong initial sales and back orders for the iPhone 5s and strong iPhone 5c sales" in both the U.S. and international markets. The devices launched to record-breaking sales numbers in their late September opening weekend and demand still far outstrips supply for the iPhone 5s.
The bank believes that Samsung's upcoming Note 3, which has polarized technology journalists and consumers alike with reports of benchmark cheating and region locking, "should compete very well" against Apple's handsets. The future looks much more bleak for smaller competitors like HTC, BlackBerry, and Motorola, all three of whom Canaccord believes gave up share in the "high-tier smartphone market" to Apple.
According to the report, September brought "very weak" demand for HTC's flagship HTC One, while the Taiwanese company posted the first quarterly loss in its history earlier Friday. The story was similar for BlackBerry, which saw "very soft" sales of its new Z10 and Q10, and Motorola, where sales for its refreshed Droid lineup declined after Apple's new iPhones became available.