Apple's new retail chief was Britain's highest paid CEO, saw sales at Burberry triple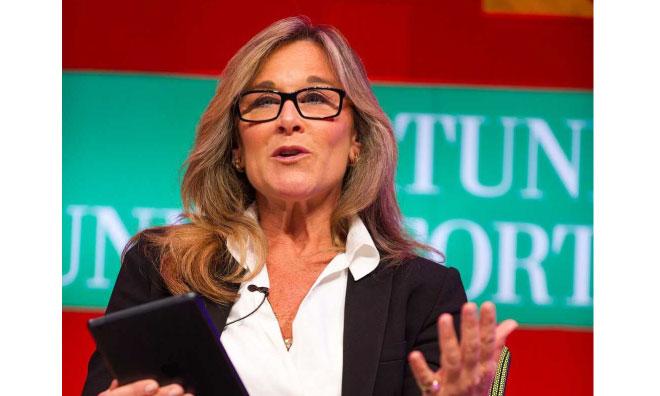 Angela Ahrendts oversaw a renaissance at British fashion house Burberry, tripling revenues with an aggressive digital and emerging market strategy and becoming the highest-paid executive in London, the first woman ever to accomplish the feat.
When Angela Ahrendts took the reins at London-based Burberry in 2006 —  the brand's 150th anniversary — the company reported yearly revenue of £740 million and its share price hovered around £4. Seven years later, when Ahrendts announced plans to step down as CEO to become Senior Vice President of Retail and Online Stores for Apple, Burberry's annual revenue had nearly tripled to £2 billion and shares traded for more than £15.
The skyrocketing trajectory of Burberry's financials led the group to make Ahrendts the highest-paid executive in Britain last year with a total pay package of £17 million, the first woman ever to top the London leaderboard. A Burberry executive told The Guardian in June that the company distributed an anger-soothing email to employees once Ahrendts's windfall became public, but that it was a superfluous step —  "Everyone knows it's an insane amount, but everyone thinks she's totally worth the money," the executive said, adding that "Everyone loves her."
Burberry's ascent back to the fashion stratosphere was the result of a multi-pronged strategy overseen by Ahrendts and former CEO Rose Marie Bravo which saw the company cancel or buy out many of its foreign licensing and distribution agreements, bringing retail stores back under corporate control. Burberry's function as both a wholesaler and a retailer is somewhat unique among luxury fashion houses and affords the company an Apple-like degree of control over the customer experience.
"I feel like I spent my first few years here buying back the company - not the most pleasant or creative task," Ahrendts said to The Guardian. "But we had to do it. If you can't control everything, you can't control anything, not really."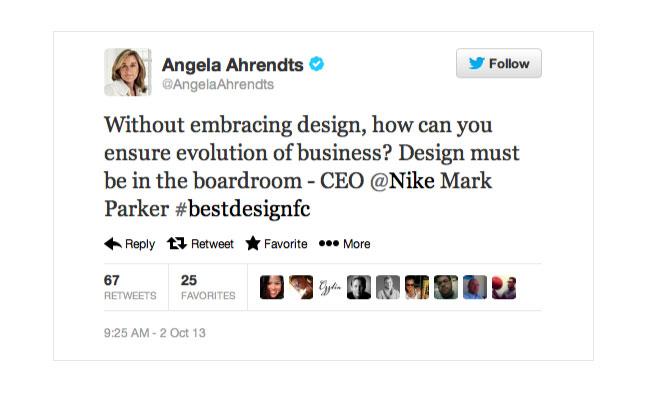 Ahrendts, who came in at number 53 in the 2013 edition of Forbes's World's Most Powerful Women list, also put in place a new set of technology-focused tactics for the brand. Burberry's flagship Regent Street retail store has been described as "one of the most technologically advanced stores in the UK," and sales staff in many of the company's smaller retail shops around the world carry iPads on which customers can browse Burberry's full collection.
Burberry under Ahrendts employed an aggressive digital strategy with a focus on using social media to build hype for product unveilings.
Burberry also collaborated with Apple in last month's launch of Apple's iPhone 5s, using several of the new handsets to record and live stream the label's Spring and Summer 2014 fashion show during London Fashion Week in September. Burberry's Chief Creative Officer Christopher Bailey, who will replace Ahrendts as CEO, said that the company was "inspired by what this could mean for the future as we continue to explore the merging of physical and digital experiences."
Emerging markets like China — Â which Apple CEO Tim Cook has highlighted as a "very important" target for Cupertino — Â also played a key role in Burberry's growth under Ahrendts thanks to a strategic focus on the country. China and its 69 first-party retail stores now accounts for 14 percent of the company's yearly revenue.
In a Tuesday morning note to employees, Cook heaped praise on Ahrendts and said that he had long planned to unite the brick-and-mortar and online retail teams under a single banner but, until meeting Ahrendts, had yet to find an executive capable of leading the combined channels.
I am thrilled to announce that Angela Ahrendts will be joining Apple as a senior vice president and member of our executive team, reporting directly to me. Angela is currently the CEO of Burberry.
She will lead both our retail and online teams. I have wanted one person to lead both of these teams for some time because I believe it will better serve our customers, but I had never met anyone whom I felt confident could lead both until I met Angela. We met for the first time last January, and I knew in that meeting that I wanted her to join Apple. We've gotten to know each other over the past several months and I've left each conversation even more impressed.
She shares our values and our focus on innovation. She places the same strong emphasis as we do on the customer experience. She cares deeply about people and embraces our view that our most important resource and our soul is our people. She believes in enriching the lives of others and she is wicked smart. Angela has shown herself to be an extraordinary leader throughout her career and has a proven track record. She led Burberry through a period of phenomenal growth with a focus on brand, culture, core values and the power of positive energy.
Angela will need to focus over the coming months on transitioning her current role at Burberry and will then join Apple in the spring. I am sure as all of you meet her, you will see why I am so excited that she is joining our executive team. I'd like to add a special thanks to all of our retail leaders. Your strength, talent and leadership afforded me the luxury of taking the time to perform an exhaustive search to find the best person in the world for this role.