Apple begins decorating Yerba Buena Center for Tuesday's iPad event [u]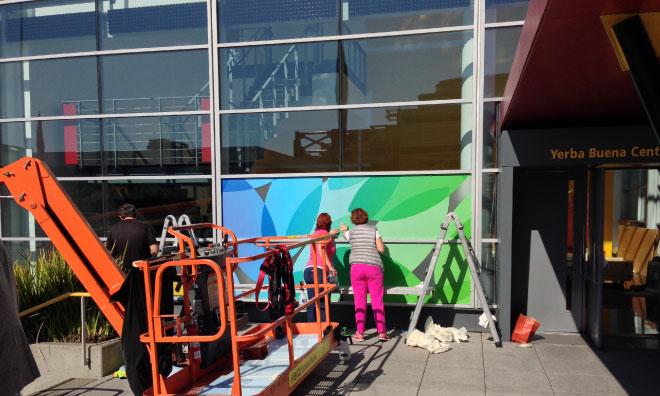 San Francisco's Yerba Buena Center for the Arts is starting to get Apple's traditional promotional window dressing ahead of the company's Oct. 22 iPad event.
The decoration, seen in a photo by AppleInsider reader David Jones, appears to match Apple's Tuesday invitations for the event, with multicolored "leaves" from Apple's logo scattered in the background. The Yerba Buena Center is one of Apple's most preferred venues for product showcases, having hosted the original iPad's 2010 introduction, among others.
Also spotted was a design schematic depicting the finished layout.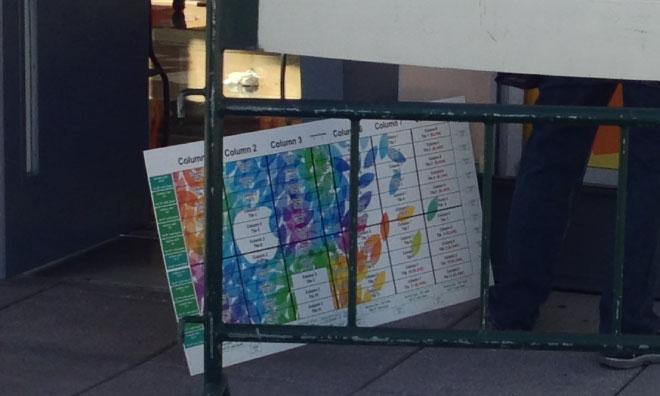 Apple is expected to unveil a redesigned 9.7-inch iPad featuring a thinner build and narrower bezels around the display alongside a Retina display-equipped iPad mini at the Oct. 22 event. Both devices are rumored to be available in Apple's new gold and space gray color schemes, introduced in September with the iPhone 5s.
The company will also likely show off updates to the next-generation Mac Pro desktop and OS X Mavericks operating system at the event. The new Mac Pro, which Apple will build in the United States, is rumored for a November launch, while Mavericks has already gone golden master and may be released before October is out.
AppleInsider will be on site for Tuesday's event and will bring live coverage alongside hands-on first impressions for any new devices.