iOS 7 seeing slower uptake than Apple's iOS 6 - report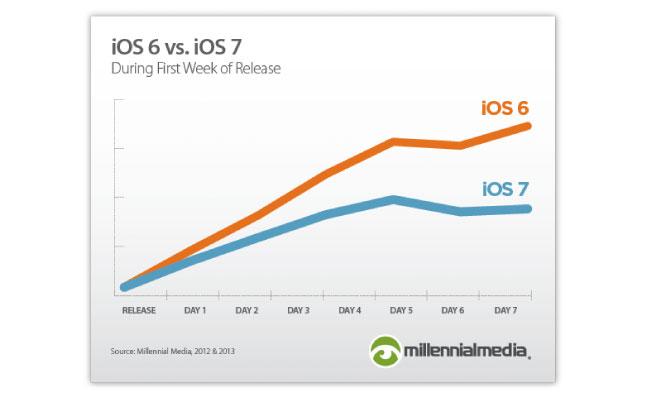 Apple's redesigned iOS 7 did not experience the same rapid ramp-up in adoption during its first week of availability as its predecessor, iOS 6, new data indicates.
According to the report from mobile advertising network Millennial Media, advertising impressions from devices running iOS 7 grew by 185 percent per day over the operating system's first seven days of availability, accounting for 16 percent of all iOS-derived traffic at the end of the period.
Those numbers, however, fall well short of those tallied by the network for iOS 6. Former iOS chief Scott Forstall's final release commanded 35 percent of iOS traffic at the same point in its release cycle after growing by an average of 264 percent each day.
Millennial speculates that the lag in uptake could be attributed to the sweeping changes made by newly-crowned design czar Jony Ive after Forstall's ouster. The company believes the drastic departure of iOS 7's user interface, combined with mixed reviews of the update by media outlets, drove some users to shy away from the upgrade at first.
"Because iOS 7 was such a major update, it seems likely that early adopters downloaded it as soon as possible, but for other consumers, there may have been hesitation after reading about how radical the changes were," the report says.
The network makes a case for this hypothesis with an hour-by-hour release day analysis that shows a hockey stick-like increase after 5 p.m., or the end of a typical office workday.
"While some consumers may have downloaded the update during work, they most likely saw the major changes and decided they needed to explore the new system away from the pressures of the workday," they argue.
Millennial's numbers stand in contrast to other measures of iOS update activity for the same time period. According to Mixpanel, iOS 7 has reached 71 percent penetration in just 27 days, compared to last year's iOS 6, which was at 61 percent after its first month.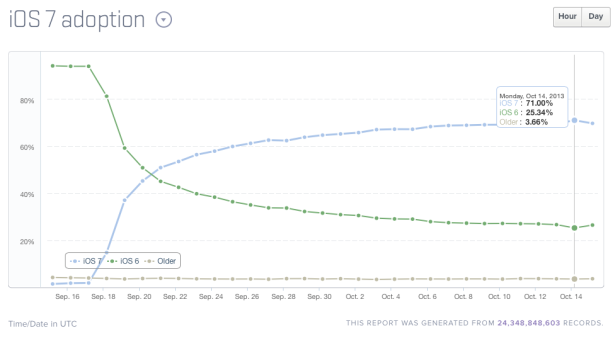 Internet advertising company Chitika found that iOS 7 installations had actually outpaced those of iOS 6, climbing to more than 30 percent just 48 hours after launch.