Impressions: Working with Microsoft's Surface 2 & Type Cover 2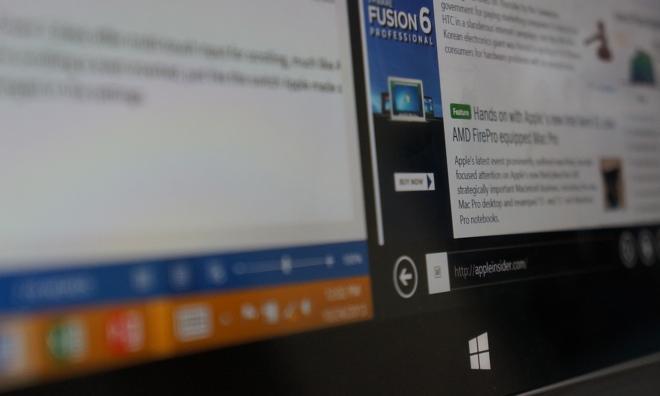 In positioning its Surface tablets against the iPad, Microsoft has attempted to convince consumers that its devices are better built for productivity, while Apple's lineup is simply meant for media consumption. We decided to put Microsoft's claims to the test, and spent a few days using the Surface 2 in a work environment.
Though Microsoft has been long dominant in the traditional PC space with its Windows platform, it's hoping to carve away at some of Apple's ownership in the tablet market, where the iPad has been the leader since it first debuted in 2010.
The Redmond, Wash., company took its first official stab last year, when it launched the Surface Pro and Surface RT, a pair of Microsoft-built tablets designed to reach different markets. While the Surface Pro runs traditional x86-based processors and full-fledged Windows, the low-end Surface RT line uses ARM processors, like Apple's iPad, and runs a stripped down version of Windows, dubbed "RT."
Microsoft's first attempt with Surface RT resulted in huge losses for the company, which took a $900 million write-down on unsold inventory. Estimates peg total Surface RT sales through July at just 1.7 million.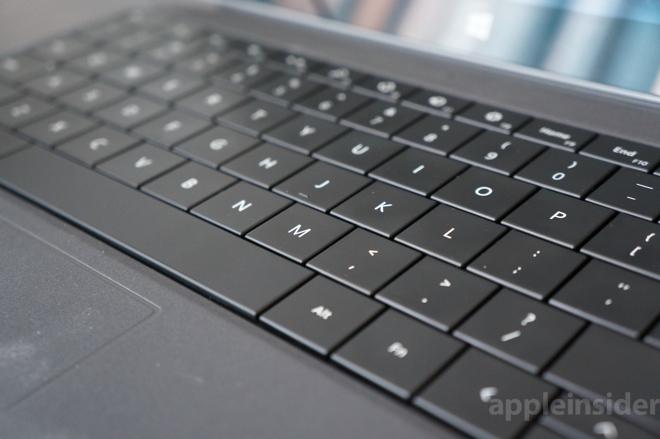 But with Surface 2, Microsoft has made it clear they have no plans to abandon the low-end Windows RT platform. This year, they've returned with a new model that now sports a high-resolution 1080p screen, a number of design tweaks, and much faster internal components.
AppleInsider was provided by Microsoft with a Surface 2 and accompanying Touch Cover 2 accessory to test. The tablet also came with the charging cable, a case from Targus, and one year of 100 gigabytes of storage on the company's SkyDrive cloud storage service.
Since Microsoft has sold this device to consumers as a productivity-geared alternative to Apple's iPad, I decided to put it to work.
Getting down to business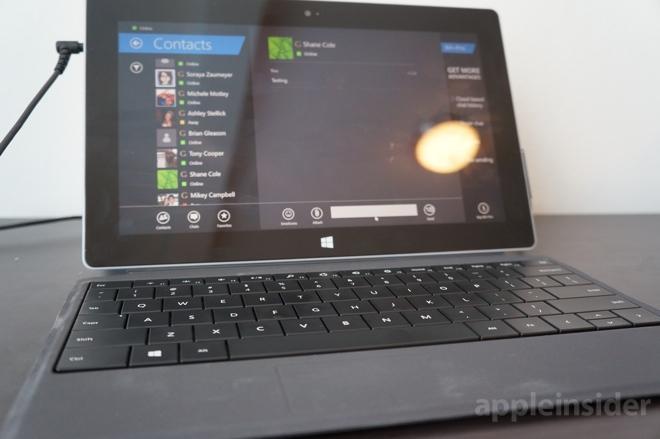 I use a fairly typical set of applications my daily workflow: a messaging client, browser, RSS reader, mail client, basic text editor, image editor, and FTP client. It's here, already, that the iPad has a major productivity advantage: Apple's App Store has nearly 500,000 applications designed for the iPad alone, while the Windows Store has over 100,000.
Still, I managed to find free options on the Windows Store that suited my needs. Some cross-platform options I was familiar with, like IM+ for instant messaging, while others, such as RSS app Modern Reader, were exclusive to the Windows platform.
Surface 2 comes with the Office 2013 RT suite, which includes Excel, OneNote, Outlook, PowerPoint and Word. Similarly, Apple's iWork suite comes free with all new iPad purchases — Â though the iWork for iOS apps are touch-optimized, and full touch support for Office is said to be forthcoming.
The Office 2013 apps also require users to enter a legacy desktop mode, complete with a Start button that returns to the "Modern" Metro UI. Frankly, the inclusion of a desktop mode in Windows RT is only confusing, because the platform does not run traditional Windows apps.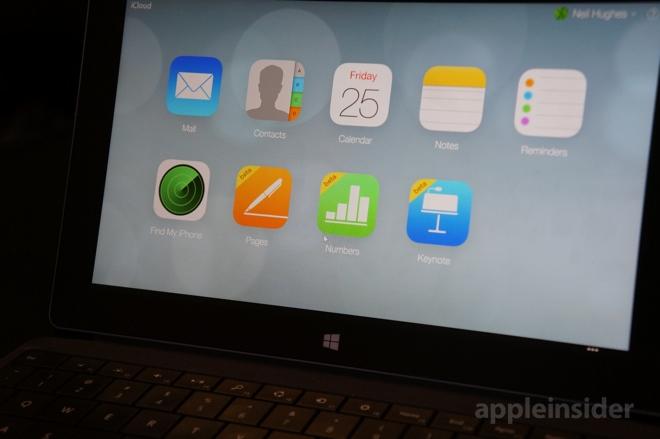 And yet ironically, as Windows RT's desktop mode is limited to a handful of ARM-compatible apps, the biggest drawback of productivity on any tablet is the very lack of a traditional desktop mode. Thanks to the success of Apple's iPad, modern tablets have been geared toward uni-tasking, with one application displayed at a time.
Thankfully, Surface 2 breaks this rule with the ability to "snap" multiple apps onto the screen at once. Here, the Surface 2 does gain a major productivity advantage over the iPad.
With two windows open at once, Surface 2 offers "true" multitasking that's crucial in my work environment. I can have an RSS feed or the latest emails viewable on one side of the screen, while reading a website or writing a document on the other side.
In particular, the ability to view one document while typing notes is a crucial part of my daily routine. The iPad simply doesn't allow this sort of "combining" of apps when multitasking, and it's an area where Apple's competitors do have a leg up with regard to productivity.The "snap" feature in Windows RT 8.1 does aid productivity, but Surface 2 can't run traditional Windows apps, which limits its potential
Like the iPad, Surface 2 allows applications to run in the background. On both platforms, this works well: Notifications pop up to alert of new e-mails or instant messages, and tapping on the notification launches that respective app. When using apps in "snapped" mode on a Surface 2, a user must choose which current app they wish to replace after tapping on a notification.
Dual-window multitasking on the Surface 2 is limited to only two apps at a time. It's also a landscape-only affair, because windows are forced to the left and right of the display, not the top and bottom. The 16:9 screen is too narrow to allow for multitasking in portrait mode.
In reality, pretty much everything with Surface 2 is meant to be done in landscape mode. The 16:9 aspect ratio is unwieldy in portrait mode when using Surface as a tablet.
And that brings us to the design of the Surface 2 itself, and how it plays into productivity.
In the lap, on the desk
Surface 2 is about 9 millimeters thick and weighs just shy of 1.5 pounds. It's comparable to the third- and fourth-generation iPad, but is a half-pound heavier than Apple's forthcoming iPad Air. The Surface 2 also has a bigger screen than the iPad, though, measuring 10.6 inches with a 1080p high-definition resolution.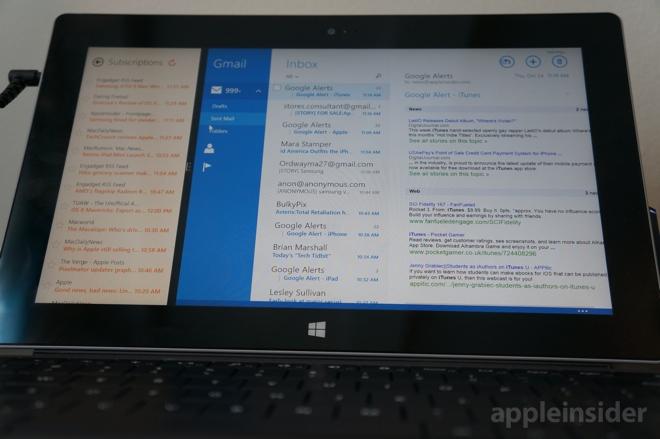 I found it works best in "notebook mode," propped up by the kickstand sitting on a desk, used with the Type Cover 2 keyboard accessory. There are two angles the kickstand offers, and the angle does makes it easier for lap use, though I can't recommend using the device with the keyboard in this fashion.
In my experience, typing away on the lightweight keyboard can cause the heavier surface to bounce around a little bit, leaving me with concerns that it might fall out of my lap. This is meant for use on a desk first and foremost, though careful lap use is technically possible, but probably best without the keyboard. For my work tests, I kept it steady on a desk.
The build quality of Surface 2 is great. The keyboard clicks in sturdily with a satisfying sound, and the kickstand is reliable and snaps into the angle you want with ease.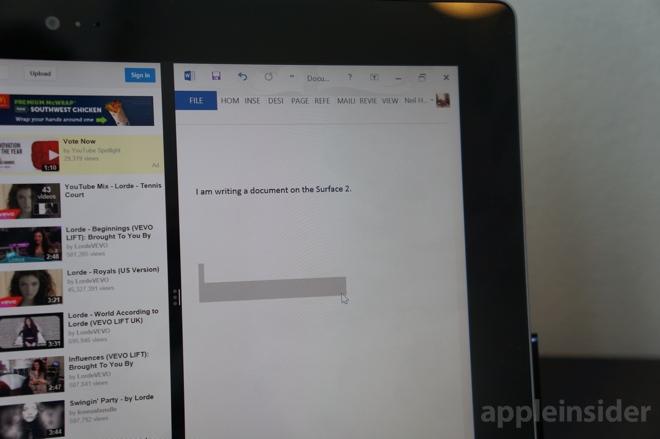 There are dedicated ports for USB and Micro HDMI, which Apple's iPad lacks, though that same functionality can be easily added with adapters. As I don't own a Micro HDMI cable or adapter, or know anyone who does, the inclusion of the port seemed useless to me, and makes it no more convenient than Apple's own HDMI adapter. The dedicated USB port is nice for importing photos, though it does limit Microsoft's ability to make the device any thinner.
There's also a microSD expansion slot under the kickstand, allowing users to have more storage.
The Windows button on Surface 2, which is the equivalent of the home button on the iPad, isn't a button at all. It's just an icon shown on the glass front of the device, and touching it initiates a small vibration within the device to give tactile feedback to the user.
Touch vs. tap vs. type
A Surface 2 without the $130 Type Cover accessory wouldn't be very productive at all. This is a solid keyboard, and it's relatively thin thanks to the fact that it doesn't need its own battery.
The bottom side of Microsoft's tablet features a magnetic connector that holds the Type Cover 2 securely, and also provides power to the accessory. This year's updated Type Cover includes a backlight for the keys.
I had no problem typing at full speed on the Type Cover. Travel on the keys was adequate, and I found the accessory to be a crucial productivity booster.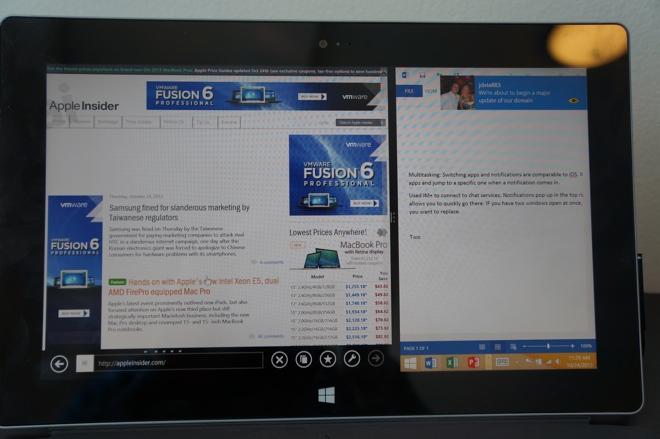 Flipping the keyboard around to the back side of the device, allowing it to be held in a traditional tablet mode, disables the accessory, and pressing keys will not type on the screen. Flipping the keyboard back to the front reenables it.
Of course, there are plenty of keyboard accessories for the iPad, from Apple's own wireless offering, to a number of models that act as clamshells to turn the iPad into a sort of notebook — not unlike the Type Cover.
But there are a few key differences. iPad keyboard accessories connect through Bluetooth, meaning they need internal batteries that must be recharged, and they must be turned on and off to establish a connection. In addition, the iPad does not allow pointer-based control from a trackpad.The Type Cover 2 is a serviceable keyboard and well-designed accessory, but its trackpad is too small and unreliable.
The Type Cover 2 does include a trackpad. Unfortunately, while the Type Cover keyboard is great, the trackpad is not.
The trackpad is located below the keyboard, as it would be on a traditional notebook. But because of the small size of the accessory designed to fit the 10.6-inch display on the Surface 2, the trackpad is too tiny.
In my tests it was also unreliable — much more so than Apple's accurate MacBook trackpads. Clicking and dragging with the Type Cover 2 was nearly impossible for me, and I often found myself accidentally clicking on items on the screen. Attempts to fix this by adjusting the settings in Windows RT 8.1 didn't address the problems.
That said, two-finger scrolling on the Touch Cover 2 trackpad, much like on a Mac, works great, and I didn't have any issues with it.
While the trackpad was poor, the touchscreen on the Surface 2 is responsive and reliable. The Tegra 4 chip running Windows RT is a great performer, and the operating system felt fluid during daily use. This performance didn't come at a cost to battery life, either, as our basic tests found Surface 2 can easily last most users' full work days.
Both the touchpad and touchscreen offer the same quick-access functions, so choosing to use one or the other exclusively doesn't really hamper functionality. Swiping from the left side of the screen or touchpad pulls up the multitasking tray with recent apps, while the right side of the screen or trackpad offers access to Search, Share, Start, Devices and Settings.
Using the Surface 2 for work, I found myself defaulting to selection through the trackpad because of habit. But my frustrations with it would then lead me to reach out and navigate the Surface 2 via the touchscreen. This felt like an unnatural way of using a desk-based computer for an extended period of time.
Options are nice, but between the touchpad and the touchscreen, I felt like the Surface 2 was trying to do too many things and not really succeeding at any. At least the keyboard was reliable.
File systems and the cloud
Windows RT includes a more traditional file system structure than Apple's iOS, allowing users to access files and place them in folders. This is an area where Apple has made a conscious decision to simplify the computing experience, though sometimes at a detriment to power users.
That said, Apple has made strides in recent years in allowing files to be shared between applications. Still, if someone has a huge library of photos saved on their iPhone or in Photo Stream, sorting through them and categorizing them for access through third-party applications remains difficult.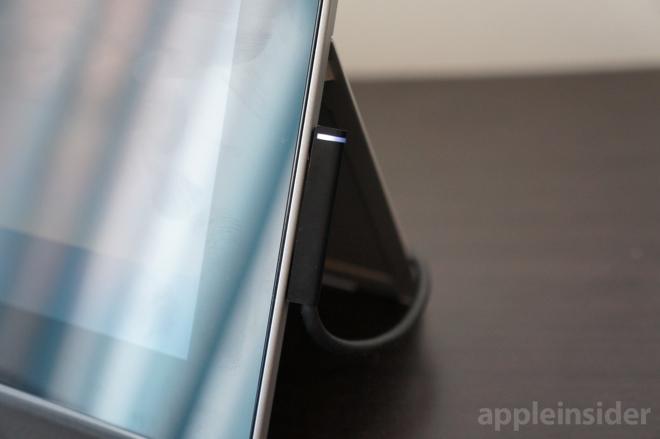 By default, files saved on the Surface 2 are saved into respective folders: Documents, Downloads, Music, Pictures and Videos. Top-level folders also exist for Desktop and Windows (C:).
On the cloud side, the Surface 2 comes with Microsoft's SkyDrive, which offers more space for free than Apple's iCloud, and also features more standard file upload and sync controls, making it a service more akin to Dropbox. SkyDrive also offers a better value for consumers, with a larger 7 gigabytes of free storage, and cheaper upgrade options than most of its competitors.
Microsoft's SkyDrive is also cross-platform, with official applications for both iOS and Mac OS X. I feel iCloud continues to be a confusing product for consumers, and believe that Apple would be better suited adopting the style of Microsoft's SkyDrive, and offering more value in the process.
Conclusions and thoughts
Let's be real: If you're serious about productivity, and your daily workflow is even moderately complex, you're not going to rely solely on either an iPad or a Surface in their current state. That's not to say these devices can't get work done — they certainly can, but they're not as efficient at doing so in a number of ways.
If cost is a concern, a quick check of the Windows tablet landscape shows there are many other competing tablets in the same price range that run full-fledged Windows, rather than the limited Windows RT. If productivity is the real selling point of Surface 2, it's hard to see this device as a clear winner over those other devices that can run traditional Windows apps.
Spending a day working with the Surface 2 was a frustrating affair. In truth, that's no different than attempting to get a full day's worth of serious work done on an iPad.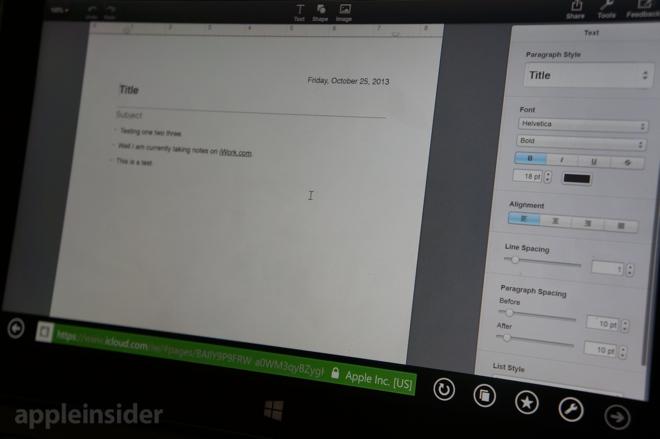 But the iPad — free of a keyboard, not reliant on USB accessories, and in a more handheld-friendly 4:3 screen ratio — is not tethered to a desk. It's a dynamic device that can be used as a notebook if you really want it to be one. Or it can be something else.
The Surface 2 feels like it does an acceptable job of being a netbook replacement. Sure, it's portable and lighter than most notebooks, and it can serve as a tablet in a pinch. But it really shines when attached to a keyboard and sitting flat on a desk. In an iPad world, that's not what I've come to expect from a tablet.
When compared to the upcoming iPad Air, the Surface 2 does offer some value over Apple's offering. Specifically, Microsoft's entry-level model comes with 32 gigabytes of storage, and is priced at $449 — Â $50 less than the 16-gigabyte iPad Air.
But to get the most productivity out of a Surface 2, you'll need a Type Cover 2, which sells for $130, which brings the total cost to about $580. An Apple Bluetooth keyboard does not attach to the iPad and stand it up, but it does sell for $69, putting the iPad at a total cost of about $570 for a productivity-minded user. And there are third-party options for iPad, like the $100 Logitech Ultrathin Keyboard, which do attach to and prop up the iPad, offering a notebook-style experience.
The Surface RT platform feels like Microsoft's attempt to bridge the gap between the past and future of mobile computing. But rather than showing us what that future may hold, the Surface 2 is a device stuck in limbo. And as it turns out, that's not very productive.