Amazon planning 2014 smartphone with advanced 3D gesture & eye tracking input - source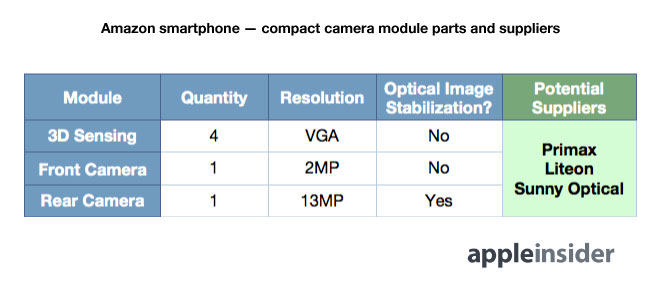 Amazon has partnered with a number of Asian compact camera module makers for advanced sensors that could allow 3D gesture and eye tracking input on a new smartphone launching next year, AppleInsider has been told.
People familiar with the company's plans, who have accurately shared information on Amazon's future products in the past, indicated that Amazon is apparently planning to launch its new smartphone in the second quarter of 2014. The device is expected to include an array of sensors that will allow entirely new input methods.
Amazon's rumored flagship smartphone is said to include a total of six compact camera modules. Four of them are reportedly VGA cameras, located at the four corners of the device, that will allow for 3D gesture and eye tracking.
Sources indicated the device will include another two, more traditional forward and rear facing cameras for picture and video capturing. The rear facing lens is said to be a 13-megapixel camera, while the forward facing one will reportedly be 12 megapixels.The latest rumors suggest Amazon may compete with Apple's iPhone by offering smartphone users entirely new ways to control their device.
Amazon is said to have partnered with three key compact camera module (CCM) makers for all six anticipated lenses: Primax, Liteon, and Sunny Optical. Primax is expected to be the major component supplier for Amazon's rumored device, with more than a 50 percent market share.
Many of the details provided are consistent with rumors that surfaced earlier this month about a so-called "Project Smith" said to be in the works at Amazon. It's been reported that Amazon will release a premium flagship handset with 3D sensing capabilities, as well as a more budget-minded entry-level device.
But a source who spoke with AppleInsider went a few steps further, revealing details about the components included inside the device, including the six aforementioned camera lenses. In addition, the device is said to include a 4.7-inch touch panel, and a Qualcomm Snapdragon 800 processor.
The camera lenses alone in the new device are said to cost Amazon about $40, which would be a significant investment for the company. As a result, this person said the handset with 3D gesture input and eye tracking is likely to be a premium smartphone.
That would place Amazon in direct competition with Apple's iPhone, which currently leads the way in the high-end smartphone market with its iPhone 5s. 3D gesture and eye tracking would also help differentiate Amazon's rumored handset from existing smartphones on the market, which rely largely on touchscreen input with some limited voice controls.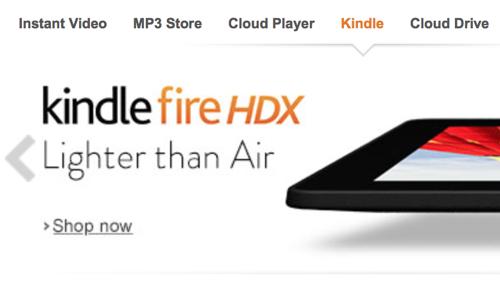 Amazon has become an increasingly larger competitor to Apple in recent years, squaring off with iTunes in digital content sales and even with the iPad via its Kindle Fire line of touchscreen tablets. But to date, Amazon has not released its own smartphone model, despite longstanding rumors.
But that may change in the first half of 2014, if the latest claims from sources bear out. It's said that suppliers working with Amazon are planning to build anywhere from 5 million to 10 million units in the second quarter.