Apple's research & development costs ballooned 32% in 2013 to $4.5B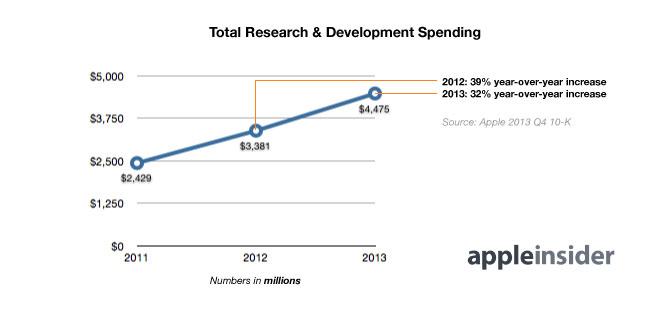 Apple's investments in research and development continue to grow, surging another 32 percent in fiscal 2013 to reach $4.5 billion — Â its highest-ever sum spent in a 12-month span.
Apple's R&D expenses, discovered by AppleInsider on Wednesday in the company's annual Form 10-K filing with the U.S. Securities and Exchange Commission, were up from $3.4 billion in fiscal 2012. That was also 39 percent increase from the $2.4 billion Apple spent on R&D in 2011.
In the 10-K filing, Apple noted that although R&D expenses have grown significantly over the last few years, the amount spent remains fairly consistent with respect to the company's net sales — numbers that have also grown significantly.
It was disclosed that the growth in R&D expenses was driven by an increase in personnel, as well as related expenses to support expanded activities."(Apple) continues to believe that focused investments in R&D are critical to its future growth and position in the marketplace." - Apple's Form 10-K filing
"The Company continues to believe that focused investments in R&D are critical to its future growth and competitive position in the marketplace and are directly related to timely development of new and enhanced products that are central to the Company's core business strategy," the filing reads. "As such, the Company expects to make further investments in R&D to remain competitive."
The spending still remains a relatively small amount of Apple's overall cash position. As of the conclusion of the September quarter, the company had nearly $150 billion cash on hand, with $111 billion of it held overseas.
The Cupertino, Calif., company also revealed its capital expenditures for fiscal 2013 were $7 billion. That consisted of $499 million for retail store facilities, and another $6.5 billion for other capital expenditures, such as product tooling, manufacturing process equipment, corporate facilities, and infrastructure.
Apple disclosed to the SEC that it plans to spend about $11 billion on capital expenditures in 2014. About $550 million of that will go toward retail store facilities, as the Mac maker expects to open about 30 new retail stores and remodel 20 existing stores in the fiscal year.
Other facts and figures revealed by Apple in its 2013 10-K:
As of Oct. 18, there were 24,710 AAPL shareholders of record.
As of Sept. 28, Apple had about 80,300 full-time equivalent employees, with about 42,800 of the them working in the company's retail operations.
As of the end of the September quarter, Apple owned or leased about 19.1 million square feet of building space, primarily in the U.S., with about 12 million of it being leased building space.
Apple revealed it owns a total of 1,428 acres of land in various locations.
A total of $10.5 billion was paid out in dividends in fiscal 2013, up from $2.5 billion in 2012.