Philips announces new connected LED downlights, spot lights & Disney-branded StoryLight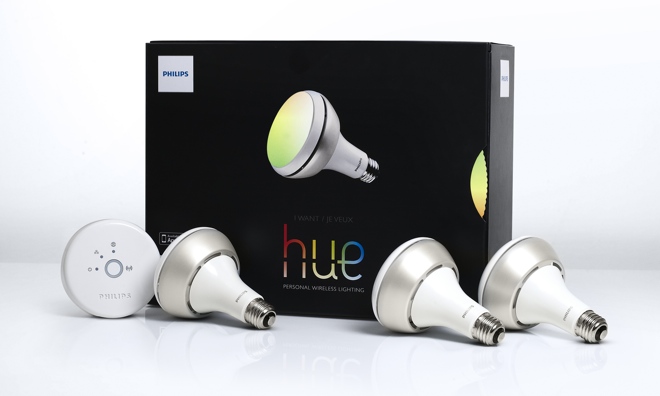 AppleInsider may earn an affiliate commission on purchases made through links on our site.
Philips on Tuesday announced a new trio of bulbs joining its family of connected LED Hue bulbs: the BR30 downlight, GU10 spot light, and Disney Imaginative Lightning StoryLight.
The new Hue BR30 is designed for North American homes with ceiling downlights or flood lights. This allows the new Hue bulbs to be screwed into accent lighting, spot and downlight fixtures for more personalized lighting options.
Like the original A19 Hue bulbs, the BR30 model delivers over 16 million ways to color users' homes when controlled through Philips' official iPhone app. The BR30s also sport high-quality tunable white light with up to 80 percent energy savings when compared to traditional incandescent bulbs.
Its counterpart for Europe is the Hue G10 spot light, suitable for recessed spot light fixtures with depth over 85 millimeters.
The new bulbs can be bought individual to add to an existing system, or in a three-pack with a Hue bridge, which is required to connect and control the bulbs to a user's home wireless network.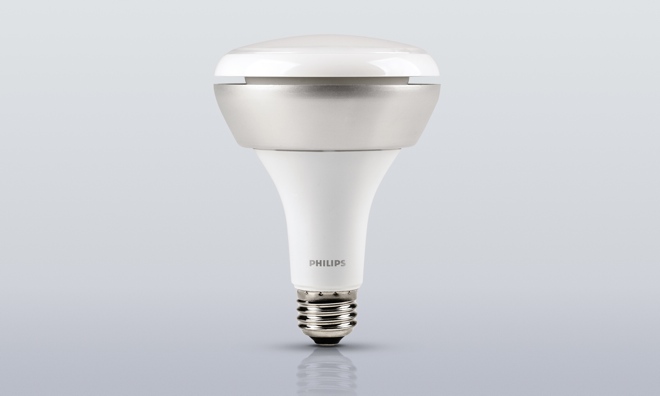 Finally, Philips on Tuesday also announced a new expansion of the Hue lineup with Disney, branded StoryLight. The new bulb accessories features similar features to the recently released LivingColors Bloom accessory, which can be plugged in and placed anywhere without the need for a light socket.
StoryLight brings Hue into childrens' bedrooms and pairs up with a dedicated, separate application taht connects colored lights to the narrative of specially created Disney e-books.
"The future of light is digital, and building on our 122 years of heritage in lighting, we are leading the way by offering people a new way to experience light way beyond just 'on/off' or dimming that they've been used to until now," said Filip Jan Depauw, Senior Director, Philips Lighting.
"By expanding the hue family, both in terms of bulb types, availability and features, we want to give more people the opportunity to use light more actively and meaningfully in their everyday lives and to create personalized experiences which provide so much more - light that can actually enhance how you live. With hue we provide you with the tools to personalize your lighting just the way you want it and wherever you want it, so that now you really can light your life."
Philips Hue bulbs are available through Apple retail stores, Apple's website, and through authorized resellers such as Amazon. The BR30 downlights are now available for purchase in North America, while the GU10 spot lights are available in Europe. Philips Hue StoryLight is also available in North America, the U.K., Sweden, and the Netherlands.
Earlier this year, Philips also launched its new LightStrips lighting option, offering stick-able LED strips that do not require a standard light socket. The LightStrips come as a 6.6-foot LED strip that can be cut to size, and placed in unique locations with an adhesive backing.