Massive new Apple patent filing details multi-user support, trackpad controls with Touch ID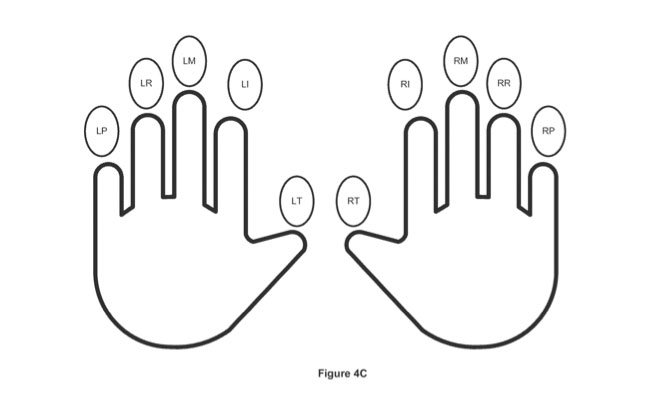 A 612-page patent application filed with the World Intellectual Property Organization shows that Apple is considering wide-ranging new uses for fingerprint sensing technology in its mobile devices, from user interface navigation and mobile payment processing to multiuser support.
Apple wants to make its fingerprint recognition technology much smarter.
The patent, filed in May of this year and published by the WIPO last week, depicts both the new Touch ID-enabled home button found in the iPhone 5s as well as a touchscreen display with an embedded fingerprint sensing layer. The concept of a fingerprint sensor embedded into a display is not a new one for Apple; the company already references the implementation in at least two other patents, but the most recent filing dives deep into how the invention could be leveraged by a new generation of devices.
Apple's first set of claims revolve around enabling the home button's Touch ID sensor to identify and process gestures, essentially acting as a miniature trackpad for navigating within and switching between applications. Apple argues that swiping across the display to move a map or double-clicking the device's home button to bring up the multitasking menu are suboptimal, calling those approaches "cumbersome" and saying they "can take a long time or be difficult for a user to remember."
Instead, Apple suggests a quick left-to-right swipe across the home button for moving through application's interface and a short swipe upwards to show iOS's multitasking screen.
Other types of gesture-based home button functions are also considered. Twisting a finger on the sensor or making a circle — Â which Apple calls a "revolution" — Â around the sensor's edge could toggle iOS's orientation lock feature, for example, while keeping a finger in contact with the button for a specific period of time could change the button's behavior when pressed.
A significant portion of the patent deals with identifying specific users and customizing the device's behavior for each one. In the most basic user identification claim, the patent details a system for creating multiple individual user profiles — Â similar to user accounts found on OS X — Â and unlocking to the profile associated with a specific fingerprint. Apple even details a "guest mode," a feature iPad owners have been clamoring for since the tablet's release.
Permissions-based profiles make an appearance as well, with the patent contemplating a device shared by a family with young children. A tap from a child's finger would not be allowed to open the Settings application, for instance, while a parent's tap would be accepted.
Apple applies the same concept to app security on a broader level. Using a fingerprint sensor embedded in the display, the operating system can permit or deny access to individual users on a per-app basis — Â one user would be permitted to open a banking application, for example, while a different user would not, even without changing user profiles.
Continuing with the financial theme, the patent predicts a mobile, location-based payments system authenticated by a user's fingerprint. A user is shown checking into a coffee house and authorizing a payment to that same business with their fingerprint, a feature many believe is in the works with Apple's iBeacons microlocation technology as a complementary piece.
Some more interesting, offbeat claims also make an appearance. By logging which fingerprints belong to which specific fingers on a user's hands, Apple imagines a system that could teach fingering for playing piano or proper form for touch-typing on screen.
Fingerprints might also be used for pairing devices, which Apple illustrates with a depiction of a user extending their iPhone's display to another situated next to it for reading, creating a larger map-viewing surface, or even playing an instrument. Simply placing the handsets next to each other and touching one with the left hand and the other with the right hand is enough to complete the configuration.
Overall, the patent includes some 464 claims, of which 180 are independent, in its more than 600 pages. The WIPO seems not to appreciate the application's girth, admonishing Apple by saying that "there are so many claims, and they are drafted in such a way...as it is particularly burdensome for a skilled person to establish the subject-matter for which protection is sought," while noting the application's non-compliance with the WIPO's "provisions of clarity and conciseness."