Apple's Black Friday sale to bring gift cards, not discounts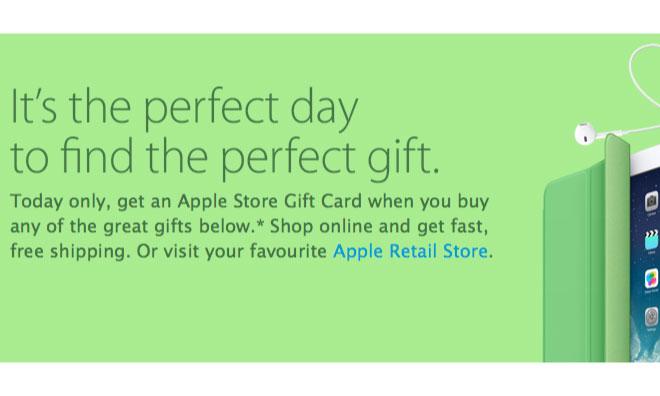 AppleInsider is supported by its audience and may earn commission as an Amazon Associate and affiliate partner on qualifying purchases. These affiliate partnerships do not influence our editorial content.
Customers awaiting word of what Apple would do for Black Friday need wait no longer, as the company's Australian online store has been updated with news that shoppers can collect gift cards, rather than discounts, with their new Mac, iPad, or iPod purchases this year.
In Australia — the first of Apple's Black Friday promotions to launch — the company is offering Apple Store gift cards worth up to AU$150 ($135) with Mac desktops and laptops, AU$75 ($68) with iPads, and AU$50 ($46) with iPods. Many accessories also carry the gift card kicker, with most — Â like the Apple TV — Â bringing customers an extra AU$25 ($23).
The iPhone is not subject to the gift card program, according to the Australian store, though there is no indication whether or not that policy will carry over to other countries.
The switch in Apple's game-plan is likely designed to help preserve the company's high-profit margins in an increasingly competitive market, but also make existing and upcoming Black Friday deals from its authorized resellers look even sweeter this year.
B&H, which only charges tax on orders shipped to NY also just knocked $150 off the new 13-inch MacBook Pro Retina 2.4GHz/4GB/128GB ($1,149.00) and 15-inch MacBook Pro Retina 2.0GHz/8GB/256GB ($1,848.99).
Apple's Black Friday promotion will be available both through their online shop and in brick-and-mortar retail stores. AppleInsider will keep you up to date with the best of this year's holiday sales as they happen.
This is not the first time Apple has chosen to bundle a gift card with purchases during promotions. Recent iterations of the company's yearly back-to-school sale have swapped out the Mac-bundled iPods of old with iTunes gift cards.
Follow all the latest news on Apple-related Black Friday deals here.