Apple tweaks iOS App Store search algorithms, app positions fluctuate 8X more than usual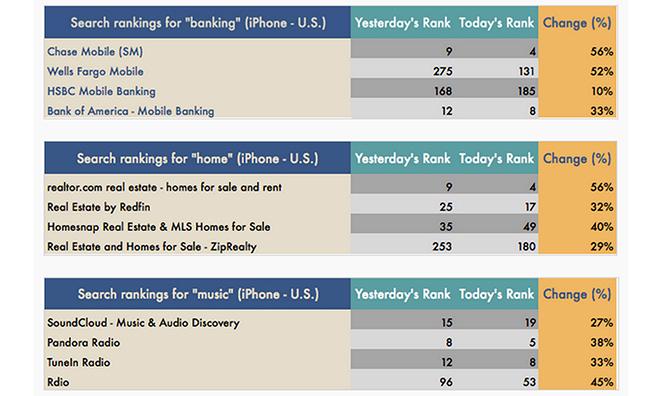 Sometime between Dec. 11 and Dec. 12, Apple changed its iOS App Store search algorithms, causing app results to move over 40 spots on average, or eight times more than a normal.
The newly-implemented changes, first spotted by App Store optimization firm MobileDevHQ (via TechCrunch), are jostling both iPhone and iPad apps an average of 41.5 positions, compared to the about five on a usual day.
Apple's search algorithms dictate what results are returned when a user types in keywords like "home automation" or "puzzle games" in the iOS App Store's search bar. While not rankings, developers rely on these targeted searches for app discovery outside Apple's top-downloads charts.
As for specific apps, MobileDevHQ saw somewhat erratic stats for specific popular apps as they popped up in random search terms like "banking," "home" and "music," among others. As seen in the above graphic, Chase Mobile moved up four spots to end up as the fourth hit for "banking," while Wells Fargo Mobile jumped 144 positions after the algorithm change. Percent change for both apps was above 50 percent.
According to other findings, after the new algorithms were instated, rankings for 62.8 percent of apps changed more than five spots, while 40 percent experience a change in rank of over 20 positions. Previously, on a normal day, 17 percent of apps for a specific keyword move five or more spots, while only 3 percent would jump over 20 places.
Perhaps more obvious to the end user will be the top-five apps for any keyword, 31 percent of which changed. This compares to a normal 8 percent margin of change prior to the tweaks.
Why Apple updated its search algorithms is unknown, though the company is continuously improving and refining its iOS App Store. In early 2012, Apple acquired app search engine Chomp and later rolled out the firm's technology as part of the App Store app in iOS 6.