GM, Audi, Hyundai, Honda, nVidia officially join Google's Android automotive push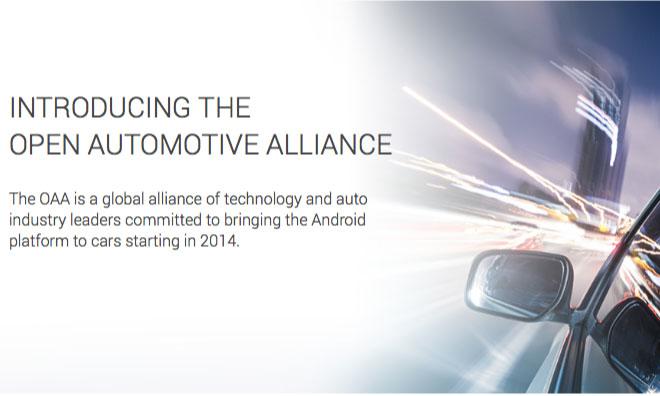 Google's bid to counter Apple's iOS in the Car strategy with an Android-based solution gained a new head of steam Monday with the announcement of the Google-led Open Automotive Alliance.
Word of the initiative first surfaced last week with a report that Google and German marque Audi would soon announce a partnership aimed at bringing Android-powered "infotainment" systems to the carmaker's vehicle lineup. With the addition of General Motors, Hyundai, and Honda, Google now counts 4 of the top 10 auto manufacturers in the world as backers.
The Open Automotive Alliance appears to be modeled on the Open Handset Alliance, a Google-led consortium that drives commercial development of Android for mobile devices. Chipmaker nVidia is a member of both groups and is so far the only technology company other than Google on the automotive roster.
According to the cabal's website, "timing from each automaker will vary, but [consumers] can expect to see the first cars with Android integration by the end of this year." Talks with the National Highway Traffic Safety Administration are said to have already begun.
The world's largest automaker, Toyota, remains unaffiliated.
It is unclear what Monday's announcement means for Apple's iOS in the Car program. GM, Hyundai, and Honda were among the manufacturers previously tabbed as Apple partners and have already announced vehicles sporting the iPhone-powered system for release in 2014.
General Motors sees "huge opportunities for the Android platform" in future vehicles, connected car chief Mary Chan said in a release announcing the alliance. The company began integrating Apple's Siri Eyes Free functionality, a precursor to iOS in the Car, in several 2014 models where it has received "remarkable" customer response.
In the same release, Honda R&D head Yoshiharu Yamamoto said the Japanese marque is "very pleased to join this alliance with Google as a founding member because Honda is committed to providing the very best connected-car experience to our customers." Honda, like General Motors, has already added Siri Eyes Free capability and introduced a new iPhone-powered in-dash system for 2014 Civic and 2015 Fit models.