Apple's spending on acquisitions surged to $525 million last quarter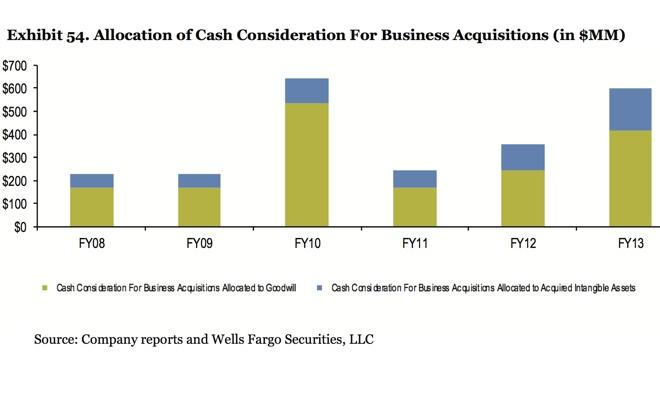 While investors continue to fret over what Apple plans to do with its $159 billion in cash and investments, the company is quietly spending far more than previously on its secretive acquisitions, exceeding a half-billion dollars last quarter alone.
Apple revealed in its quarterly 10-Q filing with the U.S. Securities and Exchange Commission that it spent $525 million on acquisitions in the three-month period that ended Dec. 28, 2013. That was up from $284 million spent by the company in the same period a year prior.
Apple's spending spree in the company's first quarter of fiscal 2014 was highlighted this week by analyst Maynard Um of Wells Fargo. He believes the acquisitions made in the quarter include:
Personal assistant app Cue, said to be bought for at least $35 million, and first revealed by AppleInsider in October
3D motion sensor firm PrimeSense, in a November deal rumored to be worth $360 million
Topsy, a social media analytics firm, was rumored in December to have been purchased for over $200 million
However, the rumored prices on this trio of acquisitions approach $600 million, which would suggest that either Apple paid less than was reported, or some of the deals were actually completed prior to the quarter.Apple's $525 million spent on acquisitions in the December quarter is believed to have included the purchase of three companies.
Separately, Apple was confirmed last quarter to have acquired digital mapping firm BroadMap, and note-taking start-up Catch, but both of those purchases were reportedly completed in the first half of 2013, and the deals would not be reflected in Apple's December quarter spending.
In the past, Apple's acquisitions have sometimes led directly to new products, services and functionality from the company. For example, Apple's 2012 purchase of AuthenTec led to that company's fingerprint scanning hardware appearing in the iPhone 5s as Touch ID, while Apple's 2008 acquisition of Lala paved the way for iTunes Match and cloud-streaming music.
Apple made a number of acquisitions in 2013, a good portion of which were related to mapping, signaling that the company is acquiring talent in an effort to bolster its own Maps product for iOS and OS X. Among those purchases was public transit and navigation firm HopStop, crowd-sourced mapping data startup Locationary, and indoor GPS company WifiSLAM.