Apple updates Sales and Trends for iTunes Connect, helps developers parse sales data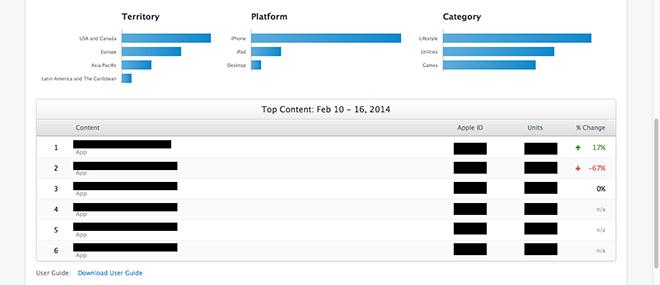 AppleInsider may earn an affiliate commission on purchases made through links on our site.
Apple on Monday released a new version of its iTunes Connect Sales and Trends tool, which aids developers in understanding sales data so they can make changes to better target their products.
As noted by AppleInsider reader Gregg, Apple sent out an email earlier today notifying developers of the new Sales and Trends version, a screenshot of which is shown above.
According to people who have seen the updated software, included in the update are new interactive features that allow devs to drill down into sales data in a variety of ways. With the new Sales and Trends tool, developers can view sales over a given time period, group sales data by regions and other modifiers, apply a number of filters to raw data and see estimated proceeds in U.S. dollars.
Information is represented in basic line and bar graphs that change dynamically when new modifiers are applied to requested data. The overall look of the tool has also changed, with a stark white background and simplified charts taking on an iOS 7-like feel. This is a change from the previous version that featured a dark aesthetic similar to the iOS 6 Stocks app.
App developers and iBookstore authors can find the new tool through Apple's iTunes Connect.