Oscars host Ellen DeGeneres poses for Samsung sponsored selfie, but tweets from her iPhone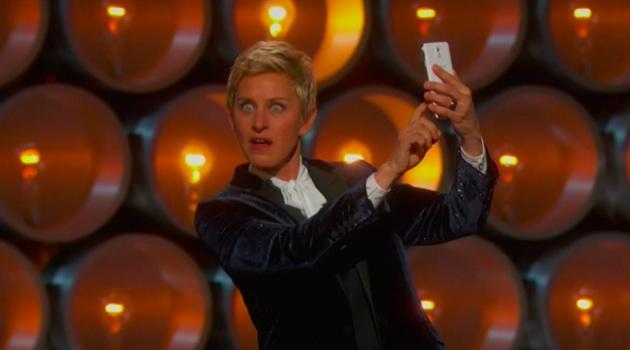 Samsung's promotional efforts to pose celebrities at the Oscars next to its products took an embarrassing turn when the host of the event, Ellen DeGeneres, tweeted before, during and after the event from her iPhone.
"The Oscars 2014 feel like (are?) a commercial for Samsung," Jesus Diaz wrote for Sploid, "with Ellen DeGeneres flashing a Galaxy Note and taking selfies left right and center. It's ridiculous."
The Verge noted, "Samsung's presence at the awards tonight is pretty over-the-top, extending from the Samsung Galaxy S5 commercials all the way to the stage."
DeGeneres' scripted selfie-taking in front of the cameras at the Oscars (above) was prominently done using a Galaxy Note mini-tablet. The photo she captured was a blur, with DeGeneres comically hash tagging the selfie "#Oscars #Blessed #blurry."
Backstage at the event, the host actually took selfies with her iPhone, and tweeted them out (below), as noted by Diaz.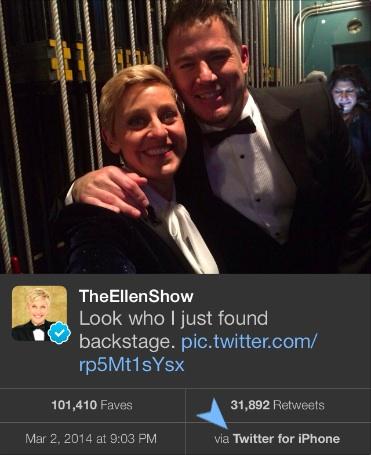 Samsung's expensive promotions running into failure
Last year alone, Samsung spent $14 billion on marketing, a figure that investors have targeted as extravagantly excessive. But even as the company works to reduce its marketing expenses, Samsung is struggling with expensive sponsorships where celebrities have put their free Galaxy back in the box to use iPhones.
At the last Summer Olympics, Samsung signed an "exclusive agreement with David Beckham to be its global brand ambassador for the London 2012 Olympic Games," but Beckham was, embarrassingly for Samsung, just spotted using his iPhone 5s at the Super Bowl.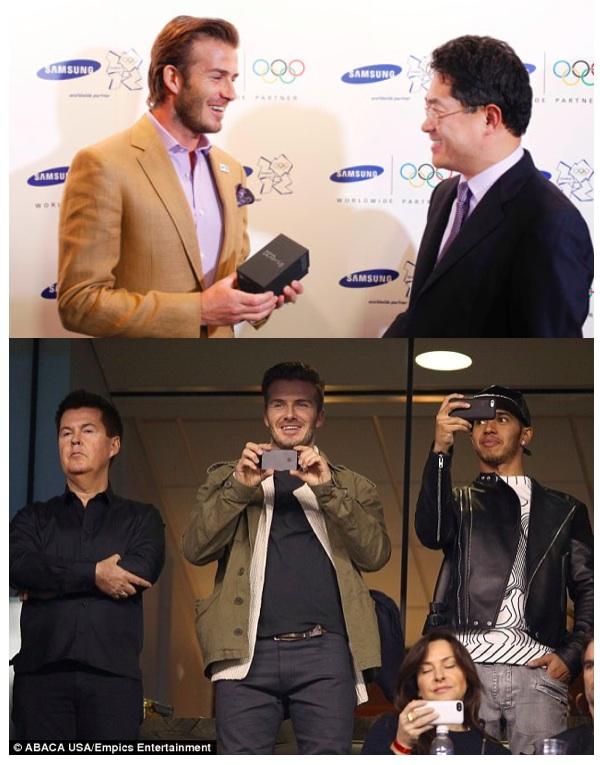 Samsung has regularly experienced difficulty in avoiding embarrassment after key sponsors continued using iOS devices, most notably via Twitter. In December, Samsung launched a "Galaxy 11" fantasy soccer team campaign that was intended to go viral, but instead went awry when star team manager Franz Beckenbauer tweeted out Samsung's prepared remarks from his iPhone.
In October, T-Mobile chief executive John Legere intended to use Twitter to direct attention to Samsung Mobile's latest Note 3 phablet and the company's Galaxy Gear watch accessory, but inadvertently did so via his iPhone 5s.
Last spring, Samsung's sponsored Spanish tennis star David Ferrer tweeted out ostensible satisfaction with his #GalaxyS4 and stated that he was "configuring S Health on my new #GalaxyS4 to help with training @SamsungMobile," albeit from his iPhone.