Screenshots purport to show WhatsApp's new VoIP calling feature in action on Apple's iOS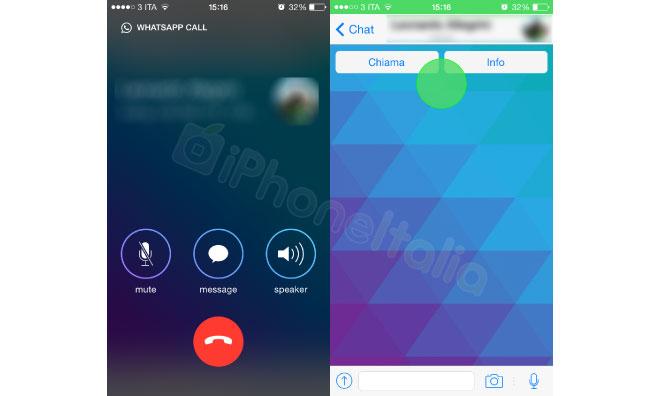 Ubiquitous cross-platform messaging app WhatsApp's forthcoming Voice over IP calling functionality, set to roll out to users later this spring, appears to have been revealed early in a series of screenshots posted Friday.
The snaps detail an in-call screen sporting a design similar to iOS 7's default Phone app, with four circular buttons to mute the call, switch to a text messaging session, direct the call through the device's speaker, and hang up. The top of the display shows the contact's name, photo, and phone number, according to Italian Apple blog iPhoneItalia.
Calls made using the new feature will add a colored "call in progress" bar to the display when a user switches out of WhatsApp, similar to the method employed by other VoIP apps like Skype and Line to notify the user that a call is still live. That functionality is provided by iOS APIs, though developers can modify its color and labeling.
Additionally, the company has made it easier for users to attach photos to a text message, adding a small camera button at the top of the keyboard. That small but welcome tweak cuts down on what was previously a multi-step process.
WhatsApp — recently acquired by Facebook in a $19 billion deal — will reportedly not charge for the calling service as it seeks to reach feature parity with more established competitors. In addition to other messaging apps, it is also competing with built-in Apple services like iMessage, FaceTime, and the new FaceTime Audio VoIP offering.
WhatsApp has yet to reveal an exact release date, and it is also unclear if any other changes are in the works following the Facebook tie-up.