New 'Your Verse' story shows how iPad helps assess concussions in sports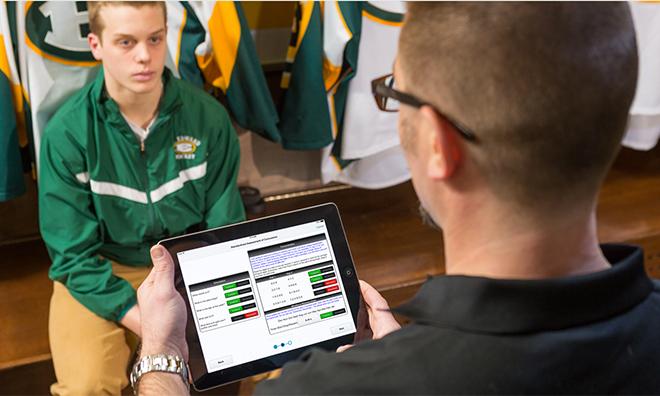 Apple on Monday posted to its website a new installment of its "Your Verse" iPad media campaign, this time highlighting the tablet's ability to help assess concussions, a previously difficult task that relied on subjective reporting methods.
The story revolves around St. Edward High School athletic trainer Jason Cruickshank, who uses the iPad in conjunction with the C3 Logix concussion assessment app to precisely track and monitor symptoms for athletes under his care.
Cruickshank first logs baseline profiles for each student, which are sent to the cloud for storage. When an incident occurs, he runs the same tests and compares the results to the baseline. The information is then displayed in a hexagon-shaped graph that highlights differences in data points like reaction time and balance.
As part of the larger C3 Logix system, the iOS app collects a variety of cognitive player information via the iPad's hardware. For example, the app harnesses on-board accelerometer and gyroscope data for quantitative postural stability and uses the high-resolution multitouch screen to capture an athlete's movement. All processing is done on the iPad.
"We needed an accelerometer, a gyroscope, and a great display to be able to objectively test balance, vision, and reaction time," Cruickshank said. "iPad gave us all of that in a single device."
The C3 Logix app can be used to continuously monitor performance as an injured athlete heals, comparing data with previous readings to get a top-down view of their progress. By comparing over time and against the baseline, iPad allows for a fast and, more importantly, safe recovery.