Apple planning expansion at Arizona sapphire plant to boost output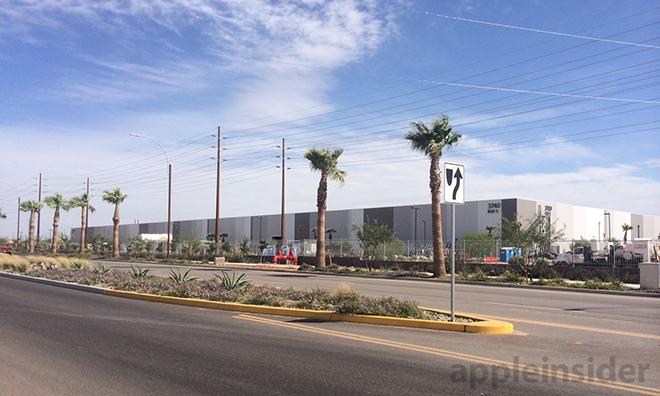 Apple and sapphire manufacturing partner GT Advanced Technologies are looking to expand operations at the companies' Mesa, Ariz., facility, possibly to accommodate higher yields for an as-yet-unknown component, AppleInsider has learned.
While construction of the joint Apple-GT Advanced sapphire manufacturing facility is not yet complete, multiple companies are already posting bids to build out a proposed expansion, according to people close to the project.
The plant and its grounds, collectively dubbed "Project Cascade," occupies an 83-acre plot of land in the City of Mesa's designated foreign trade zone. As seen above, a large main structure takes up a majority of available space, while parking lots, support structures and various equipment fill in the surrounding area. There is talk that the current site may be extended into an area directly behind Cascade, one person said.
According to the most recent public records published by the U.S. International Trade Administration, adjacent parcels of land appear to be vacant and are large enough to replicate the size of Apple's existing facility.
Although the exact purpose of the second unit is unknown, the build would likely be similar to Cascade's building as project planners are said to be fielding bids from existing construction companies and material suppliers. Firms actively working on the project include Rosendin Electric, Wesco Distribution and Graybar Electric, among others.
Despite being under construction, the plant is powered by a massive array of temporary generators and is already churning out product. Nearby the power bank is what looks to be a type of mini substation that will be used to pull electricity from the city's power grid, while two large chiller units pump coolant into the building to keep temperatures stable.
Based on current projections, construction will be finished no later than June, at which time manufacturing should reach full capacity.
Maximum output is largely unknown, but the site will be equipped with some 1,700 furnaces to make sapphire boules in bulk, sources said. Previous reports citing import/export records claimed the number of furnaces in use would be capped at around 950.
Documents supplied to the U.S. International Trade Administration in January suggested Apple was moving to aggressively ramp production of a "critical" sapphire component by the end of February. The filing also stated that all sapphire material produced at the facility is to be shipped outside the U.S. for final assembly, but offered no details on output capacity or part descriptions.
Sapphire, a crystalline form of aluminum oxide, can also be used to create an advanced virtually unscratchable alternative to silicon dioxide conventional glass. It's a potential alternative to Corning's potassium-enhanced Gorilla Glass, which Apple currently uses in its iPhone screens. Sapphire can be made thinner, and therefore lighter, but has historically also been more expensive.
Sapphire seems to be the buzzword du jour as industry analysts and mainstream media outlets continue to speculate about Apple's plans for the exotic material. Most rumors focus on iOS device displays or components for a much-rumored iWatch, though hard evidence supporting either theory has yet to emerge.
Apple first experimented with manufactured sapphire with the iPhone 5, when it used the material as a cover for the rear-facing camera. With the latest iPhone 5s, Apple's use of sapphire has been extended to a more critical and functional role as cover glass for the Touch ID fingerprint sensor.