Apple's premium-priced Macs 'defy the laws of economics,' but iPhone does not, Needham says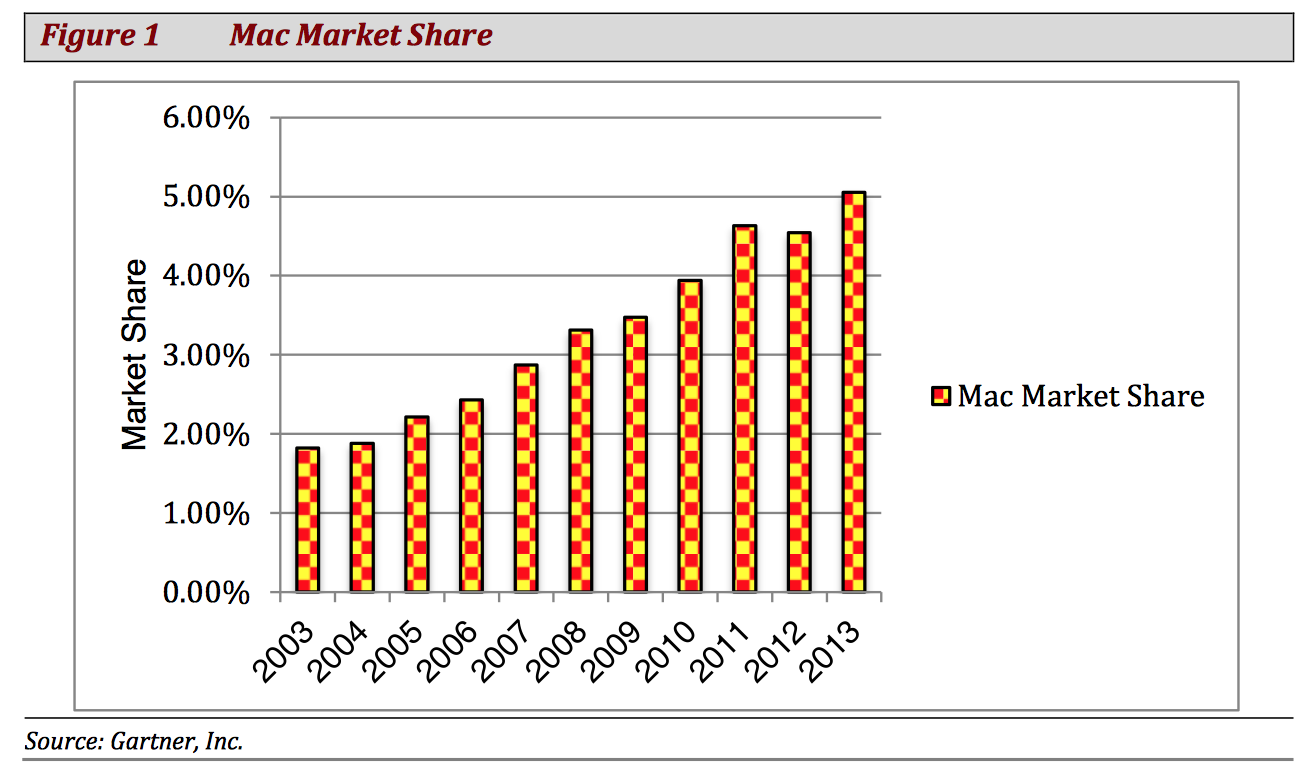 AppleInsider is supported by its audience and may earn commission as an Amazon Associate and affiliate partner on qualifying purchases. These affiliate partnerships do not influence our editorial content.
Mac sales have continued to grow in the face of a recession and declining overall PC market, but Apple's iPhone could not escape shifting trends in the smartphone space, analyst Charlie Wolf of Needham said on Tuesday.
Wolf's take was detailed in his latest note to investors, a copy of which was provided to AppleInsider. In it, the analyst said that while the Mac "seems to defy the laws of economics," Apple's iPhone "is not so fortunate."
To support this, Wolf noted that Apple has been able to consistently increase its share of the personal computer industry over the last decade. Apple's relatively small share of the overall PC market has given it opportunity to grow, but the Mac's growth has even continued in recent years, while sales of traditional Windows PCs have actually shrunk in the face of tablets like Apple's iPad.
"Our analysis indicates that the Mac is the exception, not the rule," Wolf wrote. "Against a background of progressively rising prices compared to the prices of PCs, the Mac has consistently gained share in the personal computer industry as a result of an outward shift in its demand curve. The only explanation that we see for the shifting demand curve is the now-mythical halo effect."
Apple's so-called "halo effect" refers to the belief that sales of devices like the iPod, and later the iPhone, have helped to tie customers into the company's ecosystem of devices. That, in turn, has helped to boost Mac sales.
Mac shipments have outpaced the overall PC market in 30 of the last 31 quarters, allowing Apple to increase its market share over the last 11 years from 1.82 percent to 5.05 percent worldwide.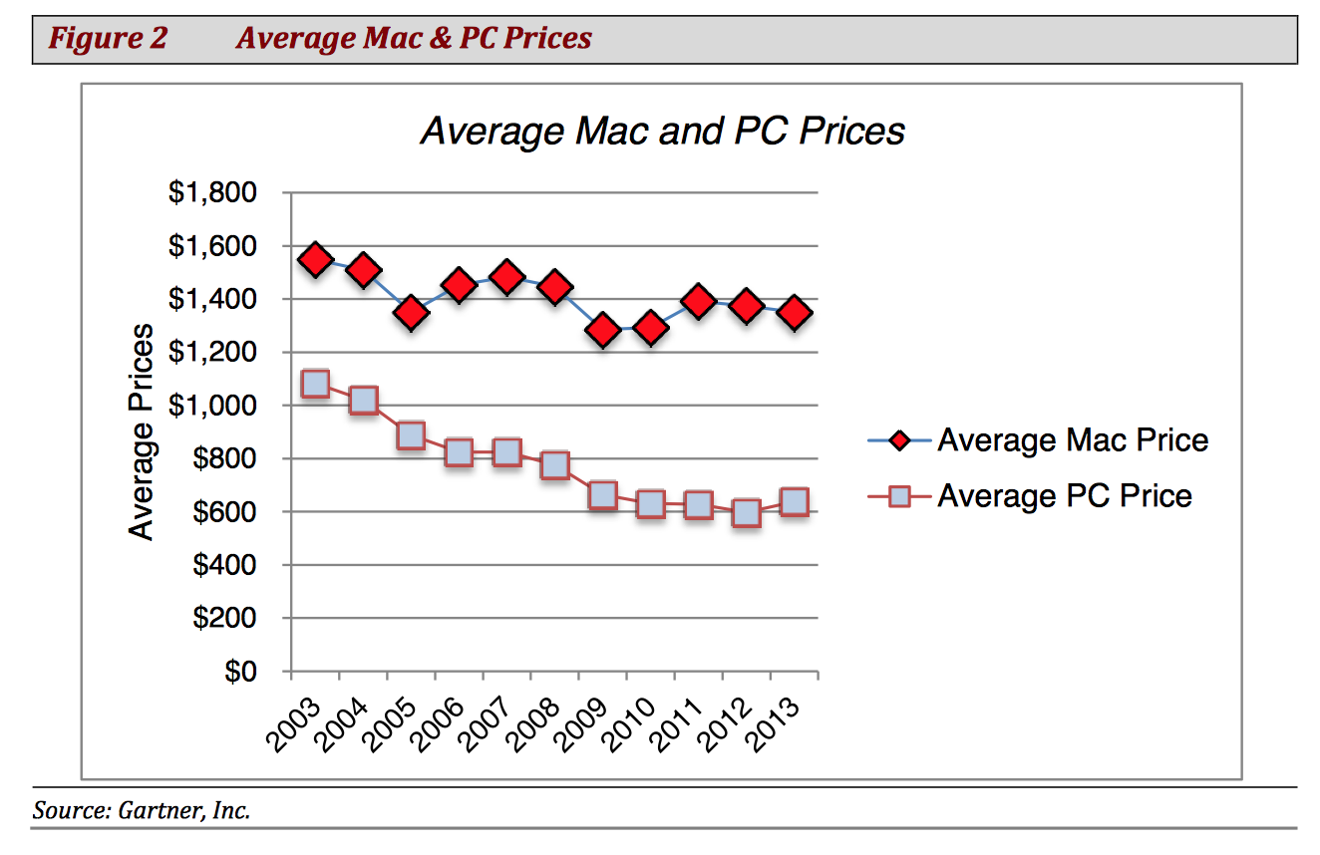 And in the last 11 years, while the average price of a PC plummeted from $1,083 to $639, Apple's Mac pricing didn't see as significant of a drop, falling from $1,549 to an average of $1,351. That means the difference in average price of a Mac and PC actually increased, from $466 11 years ago to $712 today.
But while the Mac's market share has continued to grow, the story is different for Apple's iPhone. While the iPhone saw its share rise steadily after its launch in 2007, it peaked in the fourth quarter of 2011 at 23.8 percent.
A year later, in the fourth quarter of 2012, the iPhone's smartphone market share fell to 20.9 percent. And again in the fourth quarter of 2013, Apple saw its total share fall, this time to 17.8 percent after the launch of the iPhone 5s.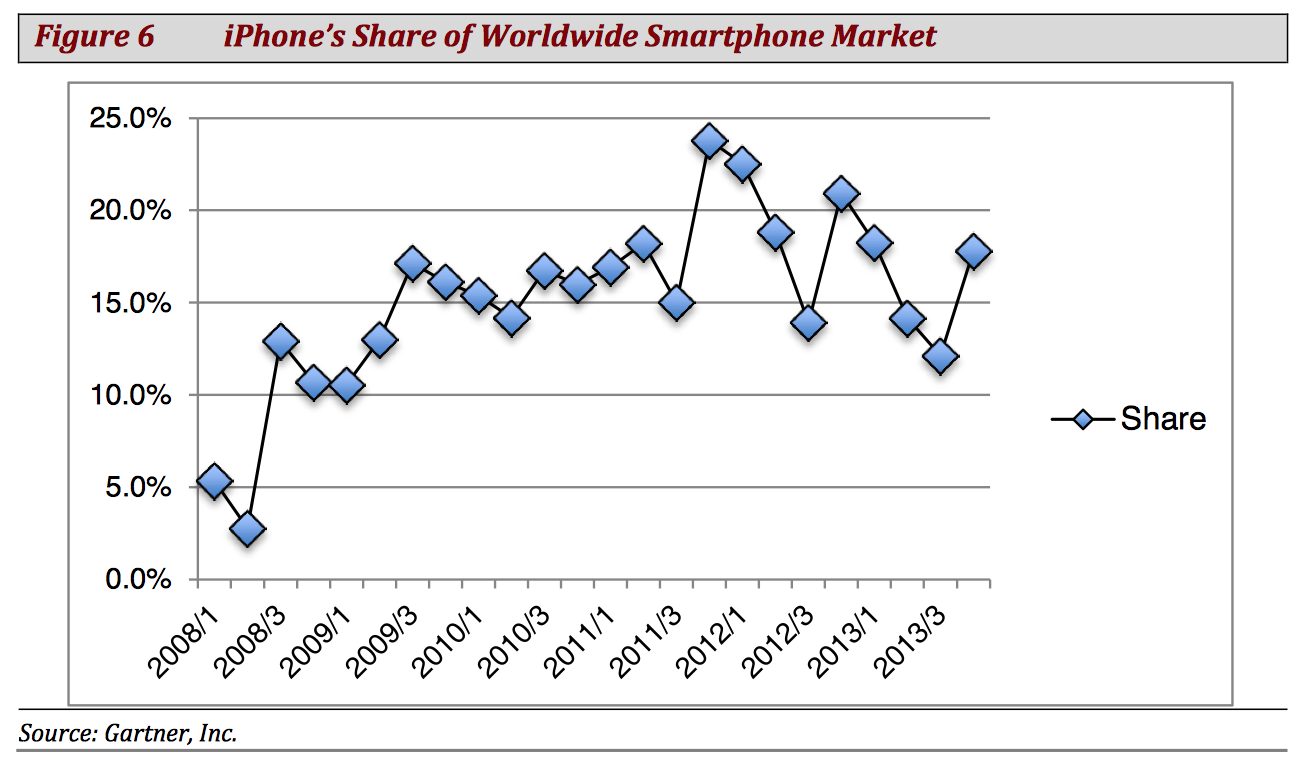 However, Wolf noted that when comparing the iPhone's market share to sales of all mobile phones, including so-called "feature phones," Apple has actually continued to gain share, subject to seasonal fluctuations. Following the launch of the iPhone 5s in late 2013, Apple reached a new high of 10.2 percent of the worldwide mobile phone market, according to data from Gartner.
Still, Wolf noted, Apple has lost "meaningful share" of the smartphone space in emerging markets such as Asia-Pacific, the Middle East and Africa. While the iPhone continues to perform well in developed markets, Apple has seen its market share slide in places where low-cost smartphones are driving industry growth.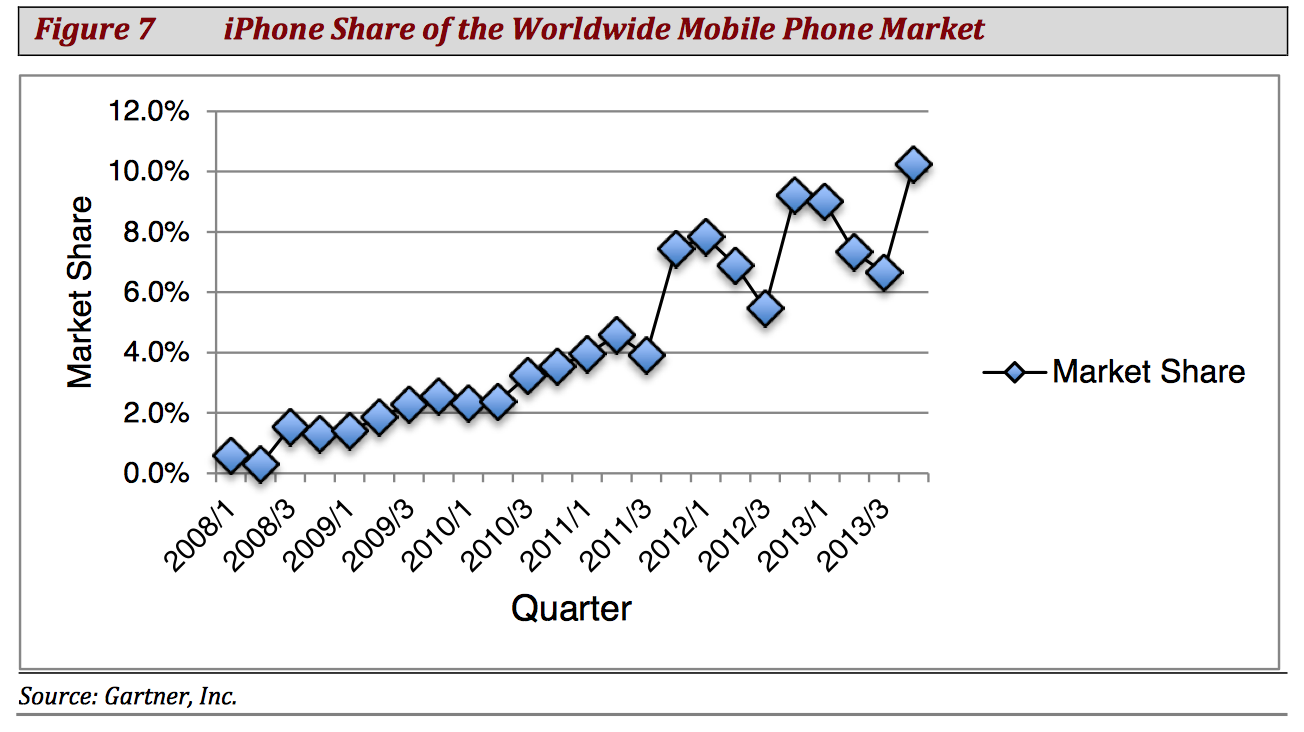 "The iPhone's loss of worldwide market share, then, is largely a composition effect, with smartphone sales migrating from developed markets, where the iPhone holds meaningful share, to emerging markets, where its share is far lower," he said.
While some have pointed to these market share losses as a major concern for Apple, Wolf isn't that bothered by the trend. He believes the migration of smartphone sales to emerging markets has been driven by what he called "imploding smartphone prices," not changes in consumer behavior.
"In contrast to the Mac, we detect no halo effect surrounding the iPhone that can mitigate the difference in price between an iPhone and a decent smartphone," he said. "Nor do we see any way that Apple could reduce the price of an iPhone to compete in emerging markets."