Investors increasingly banking on profitable new product categories coming from Apple this year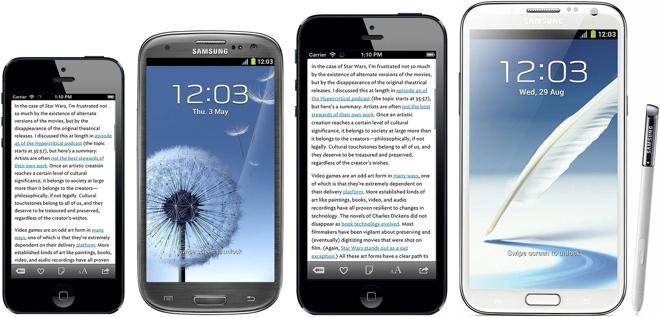 AppleInsider is supported by its audience and may earn commission as an Amazon Associate and affiliate partner on qualifying purchases. These affiliate partnerships do not influence our editorial content.
Though Apple had pledged to introduce new products "throughout 2014," it has yet to have a major launch this year. That's helped set the stage for expectations among bullish investors that the company is working on something big that could truly move the needle on Apple's stock price in the coming months.
Mockup of iPhone with 4.94-inch screen, created by Marco Arment.
Options on AAPL stock relative to the Technology Select Sector SPDR Fund are at their cheapest level in more than two years, Bloomberg revealed on Thursday. And traders are said to own more bullish options than bearish ones, as investors have become hopeful that new products from Apple will reaccelerate the company's growth.
Their research found that eight of the ten most-owned contracts were bullish, while the largest open interest is on calls betting on a 9 percent increase in AAPL share prices, to $590, by April 19.
Bullish investors are particularly excited about the prospect of a new, bigger-screened iPhone model that could counter the so-called "phablet" phenomena being capitalized on by Samsung and other smartphone vendors.
Apple is also rumored to be working on a major revamp of its Apple TV-set-top box that could be unveiled as soon as this month. And there are also expectations that Apple could enter the wearable electronics market this year, potentially with a wrist-worn "iWatch."
In addition, rumors suggest that Apple will redesign its thin and light MacBook Air with a fresh look and high-resolution Retina display at some point this year.
High expectations among investors have been partially set by Apple itself, as Chief Executive Tim Cook said a year ago that Apple would have surprises in store for customers throughout "all of 2014." With three months of 2014 now in the books, so far Apple's product introductions only involve discontinuing the iPad 2 to replace it with the return of the fourth-generation iPad, while an 8-gigabyte-capacity iPhone 5c model was introduced in some markets. But so far this year, no entirely new product models have been disclosed by the company.
And in an interview this February, Cook also said that Apple is currently working on products any "reasonable" person would consider to be new product categories. Though he didn't give any specifics about what directions the company could be headed or when those devices may launch, he did tease that Apple is planning to unveil "some really great stuff."
So far in 2014, shares of AAPL on the open market are down 3.42 percent. After big losses of more than 10 percent at the end of January following the company's quarterly report, Apple has posted gains of 5.12 percent in February and 2 percent in March to offset some of those losses, though it is still down for the calendar year.
And on Thursday, Apple announced that this year's Worldwide Developers Conference will kick off on June 2, where it is expected to announce the next-generation versions of its iOS and OS X platforms. WWDC has been held in early June for years now, so the announcement was not a surprise, and failed to move the stock higher as of premarket trading.