Intel's next-gen Thunderbolt rumored to hit 40Gbps transfer speeds with new connector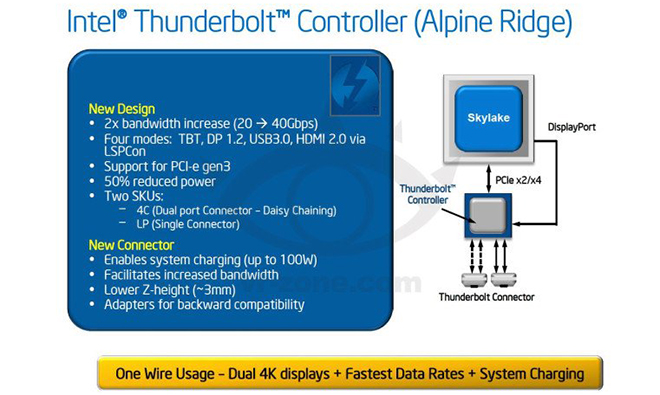 AppleInsider may earn an affiliate commission on purchases made through links on our site.
In a purported presentation slide leaked to the Web on Monday, Intel outlines its next-generation Thunderbolt specification — "Alpine Ridge" — that will boast double the throughput of current Thunderbolt 2 interface, while bringing massive gains in power efficiency.
According to the supposedly leaked slide published by Chinese tech blog VR Zone, Intel is looking to significantly boost Thunderbolt's specs and compatibility with the next-gen product, while reducing power consumption for ultraportable computers.
As seen in the image above, Alpine Ridge will feature a new design capable of handling transfer rates up to 40 gigabits per second, double that of the current "Falcon Ridge" controller. Users will be able to pipe data through DisplayPort 1.2, USB 3.0 and HDMI 2.0. Also supported is generation three of the speedy PCIe bus.
On the power side, consumption will supposedly be decreased by 50 percent, while a new form factor connector brings 100 watts of charging power over a single cable. The next-generation plug is to be about 3mm thick and "facilitates increased bandwidth." Adapters will be available for backward compatibility.
The purported slide notes two connector types will be introduced in a dual port connector for daisy chaining and a single port version.
Assuming the slide is correct, Alpine Ridge will see release in 2015 alongside a new CPU dubbed "Skylake."