Apple may be hiding behind 'Brightflash' dummy corporation to trademark 'iWatch' name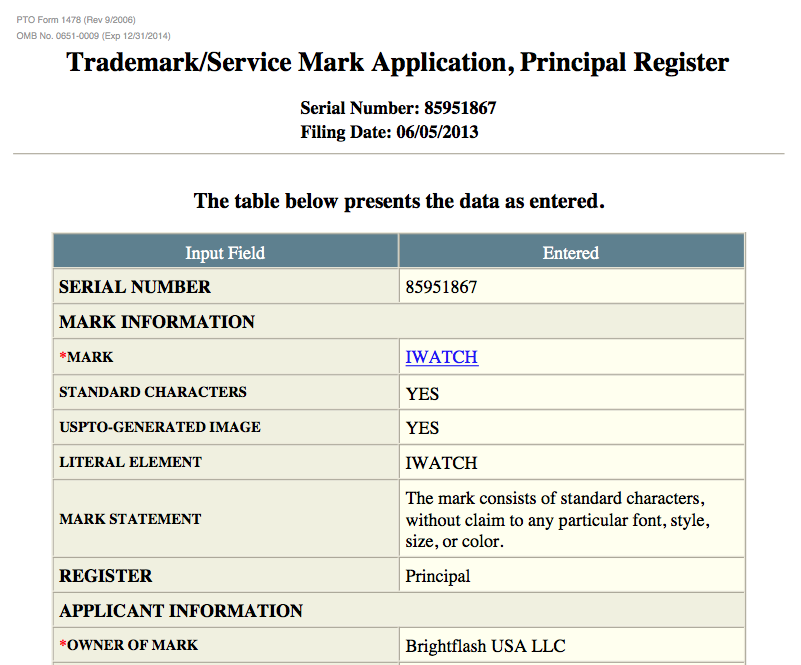 Signs that Apple is preparing to roll out a wearable device called the "iWatch" grew stronger Tuesday following a report that the company may have set up a shell corporation in Delaware designed to register iWatch trademarks without arousing suspicion.
The shell company, dubbed "Brightflash USA LLC," is registered to a Delaware corporate services company that Apple has used in the past to conduct similar surreptitious trademark registration operations. Brightflash was first discovered and connected to the iWatch moves by French site Consomac.
Brightflash has filed for or requested trademark registration for "iWatch" in at least five major jurisdictions: the U.S., the U.K., the E.U., Australia, and Denmark.
Additionally, the company has filed in a number of smaller countries including Antigua and Barbuda, Albania, Armenia, Azerbaijan, Bosnia and Herzegovina, Bahrain, Bonaire, Saint Eustatius and Saba, Bhutan, Botswana, China, Cuba, Curacao, Georgia, Ghana, Iceland, India, Kenya, Kyrgyzstan, Kazakhstan, Liechtenstein, Liberia, Lesotho, Morocco, Monaco, Moldova, Montenegro, Madagascar, Ex Yugoslav Republic of Macedonia, Mongolia, Mozambique, Namibia, Oman, Serbia, Rwanda, Sudan, Sierra Leone, San Marino, Sao Tome and Principe, Saint-Martin, Syrian Arab Republic, Swaziland, Tajikistan, Turkmenistan , Tunisia, Uzbekistan, and Zambia.
Brightflash has filed 'iWatch' trademark registrations in more than 50 jurisdictions around the world.
Each of those registrations is filed under international classification 14, covering jewelry, clocks, and watches. Apple recently updated their corporate trademark protection to include coverage under that class, lending even more credence to iWatch rumors.
Though many of the links between Apple and Brightflash could be considered circumstantial, there is at least one somewhat firm connection. Both companies used the same Ecuadorian intellectual property attorney — Alejandro Ponce Martinez of Quevedo & Ponce — to file Class 14 registrations in the country, as noted by MacRumors.
One factor working against the link is that Apple has already applied for several "iWatch" trademarks under its own name, notably in Japan, Russia, Mexico, and Taiwan.
Despite the questions, Apple has used this obfuscation strategy successfully in the past, most recently the 2009 applications for "iSlate" and "iPad" trademarks in advance of the tablet's debut. The concept has been around for decades, famously used by Walt Disney to buy up large tracts of land in Florida for what would eventually become Walt Disney World at prices that would have been unavailable if the true buyer had been known.