Purportedly 'leaked' iPhone 6 case compared with iPhone 5s, Nexus 5 and Note 3 in video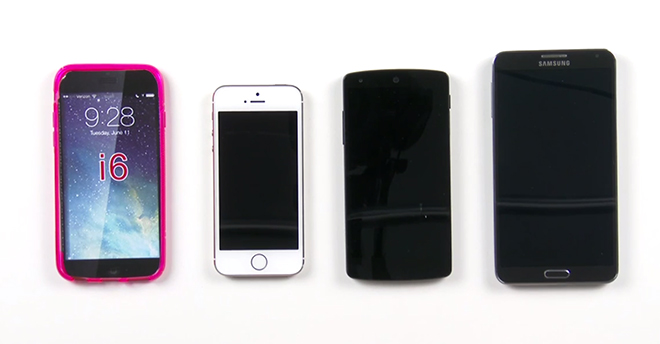 A video published on Wednesday compares a case supposedly built to wrap Apple's next-generation iPhone with Google's LG-made Nexus 5 and Samsung's Galaxy Note 3 phablet, offering new perspective on the device's possible size.
After pictures of purported "iPhone 6" cases made the rounds online last week, YouTube channel Unbox Therapy got its hands on the product for a closer look.
As seen in the clip, the case is substantially larger than Apple's current iPhone 5s, which boasts a 4-inch screen. According to Unbox Therapy's Lewis Hilsenteger, the dimensions imply the product was made for a device with a large screen, including a much-rumored 4.7-inch display format.
In comparison to the Nexus 5 and Galaxy Note 3, the supposed iPhone 6 case and paper mock-up is closest to Google's handset in terms of screen size and dimensions. The Note 3 expectedly eclipsed the case in both width and height.
The pink case also reveals potential handset thickness. Comparing it to the iPhone 5s, Hilsenteger found the entire case to be thinner than the current phone's 7.6-millimeters chassis.
Other notable features include a sleep/wake button positioned on the side of the device rather than the top, a major departure from Apple's always consistent physical control layout. In addition, the volume buttons seem to be more in line with the iPad lineup than the round chiclet-style parts used in the most recent iPhone models. Prior to the iPhone 4, Apple's handset sported rocker buttons for volume control.
The side-mounted sleep/wake button was first suggested in a research note from KGI analyst Ming-Chi Kuo. In the same document, Kuo said Apple will likely release two iPhone models this year, with a 4.7-inch version expected in early fall and a 5.5-inch iteration pushed back to the end of quarter four.
The video backs up rumors that Apple is planning to shift the iPhone's design toward a rounded edge casing first introduced with the iPad mini.