Apple, Inc. spent $18B to buy back 31.7 million shares of AAPL in March quarter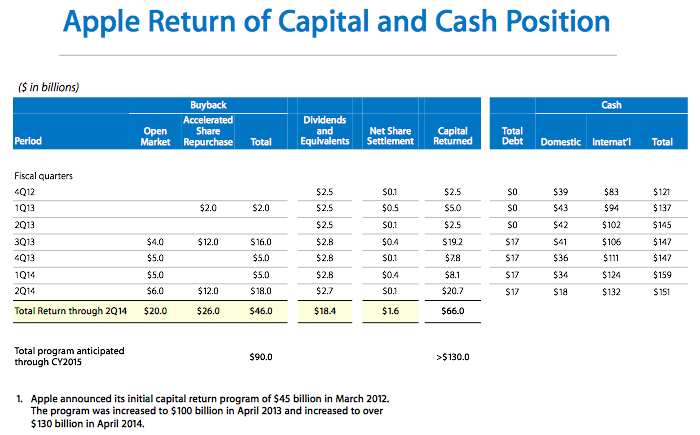 AppleInsider may earn an affiliate commission on purchases made through links on our site.
During its fiscal Q2 ending in March, Apple spent $18 billion to buy up its own stock off the market. More than three quarters of that total was used to snatch up discounted stock after investors panicked following Apple's Q1 earnings announcement in January.
Speaking to analysts in its Q2 conference call this week, Apple's corporate controller Luca Maestri outlined that "in total, we executed almost $21 billion worth of capital return activities during the March quarter."
Included in that total amount were $2.7 billion in dividend payments the company distributed to its shareholders in February.
The $18 billion remainder funded two types of stock buybacks: first, $6 billion in "open market purchases," where the company simply bought its stock from existing investors at prevailing prices; and secondly, two rounds of "Accelerated Share Repurchase" programs.
Apple's Accelerated Share Repurchases
Under an ASR, a company like Apple buys its shares from an investment bank, which essentially shorts the stock by borrowing shares (typically from its clients) which it then delivers to the company for a fixed, upfront price. Over the term of the ASR agreement, the investment bank then seeks to buy shares to replace those it has borrowed.
Buying back shares via an ASR is usually more expensive because the bank wants to profit from the transaction. However, the premium price allows the company to spend a fixed amount of money rapidly and immediately reduce its outstanding share count.
Apple initially launched a $2 billion ASR at the end of 2012 (Q1 2013). In April (Q3) 2013, Apple initiated a second, much larger ASR for $12 billion. Apple fronted the money right away and retired the initial proceeds of borrowed stock.
However, Apple's banking partner continued to buy back shares over the year long term of the agreement, resulting in windfall of 1.1 million extra shares that were delivered to Apple for retirement over the past quarter when the second ASR was settled. The average share price under the second ASR was $486.82.
In January, Apple launched a third ASR funded by another $12 billion. Maestri noted that Apple "received an initial delivery of 19.2 million shares under this ASR." The third ASR will continue throughout the end of 2014, at which point Apple may receive an addition crop of shares.
Apple's aggressively opportunistic stock purchase
Apple's establishment of a third ASR in late January helped the company to rapidly spend an incredible $14 billion within a two week period, after industry analysts incited a stock panic that caused Apple's shares to plunge more than 8 percent after the company released its highest ever quarterly revenues and operating profits, results that the tech media depicted as "disappointing."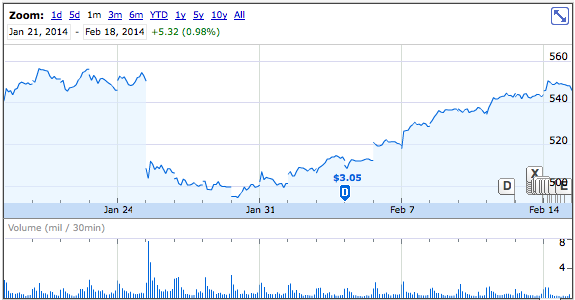 Investors who sold as Apple's stock plunged in paper value overnight from $550 to $503 (and then continued to dip below $500 through the end of January) unwittingly found Apple itself to be a willing buyer of the shares they abandoned.
A week into February, the company's chief executive Tim Cook revealed that Apple's executive team had jumped at the rare opportunity and spent $14 billion of its remaining buyback budget to snatch up its shares at a discount.
Following the $14 billion share grab, which included the $12 billion ASR and an additional $2 billion in open market purchases, Apple spent an additional $4 billion in open market purchases throughout the rest of the quarter, resulting in the $18 billion total for the quarter.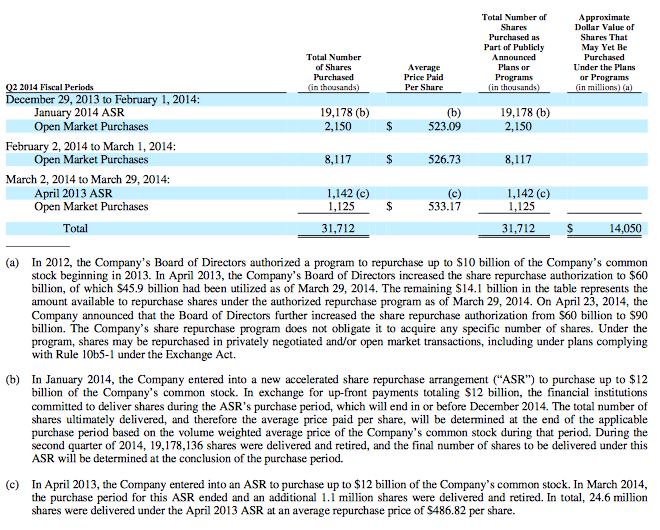 Apple subsequently announced during its Q2 earnings call both how much it bought back in the quarter and that it had authorized an additional $30 billion for future buybacks over the next two years. Along with the $14 billion remaining in its existing buyback authorization from last year ("shares that may yet be purchased under the plans for programs"), that allows the company $44 billion going forward to initiate new buybacks over the next year, were the opportunity to arise.
As it stands, Apple removed over 31.7 million shares in the March quarter; 11.4 million shares on the open market at a price per share of roughly $526, and the rest as part of its third ASR. Because an additional number of shares may be retired at the end of the third ASR, it isn't yet known what the average price per share will be for those shares.
However, looking just at the 12.5 million shares for which the per-share price is known, with Thursday's close at $567.77 it would now cost Apple an additional $561 million to repeat those stock purchases. Apple's decisive, quick thinking therefore resulted in a savings more 2.8 times as large as the $198 million that Google lost while operating its Motorola subsidiary in the same quarter.