Apple's Mac Pro ship times improve to 3-4 weeks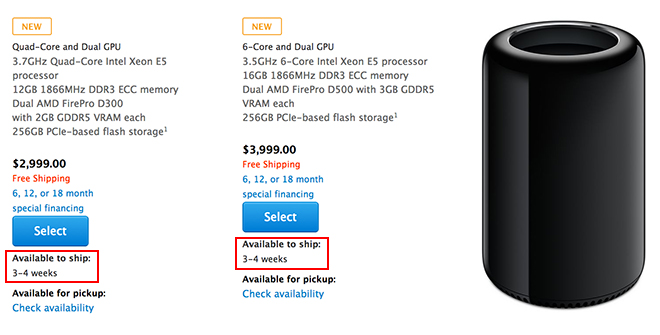 Exactly one week after Apple improved shipping estimates for its flagship Mac Pro desktop to three to five weeks, the company has again cut down on wait times with orders now showing delivery dates of less than one month.
Demand for Apple's redesigned Mac Pro has been outstripping supply since its debut in December, but a look at the Online Apple Store shows Apple is quickly catching up.
Spotted by AppleInsider reader Rolando, all configurations are now available within three to four weeks, the new estimates bring estimated shipping times to one month or below for the first time since launch.
Ship-by dates have slowly improved over the past few months, with checks in April showing estimates at 5-6 weeks, which moved up to 4-6 weeks on Apr. 11 and 4-5 weeks on Apr. 18. Last week Apple improved availability to 3-5 weeks.
The Online Apple Store is still the only place to buy the most powerful Mac ever as in-store supplies are non-existent. In January, Apple said it didn't expect to have models available at brick-and-mortar Apple Stores until at least March. In hindsight that guess was a bit optimistic.
As Apple stocks up on inventory, authorized resellers like MacMall and Adorama have limited supplies of select Mac Pro configurations, which can be seen in AppleInsider's live Price Guides.