Apple v. Samsung damages breakdown revealed in jury verdict form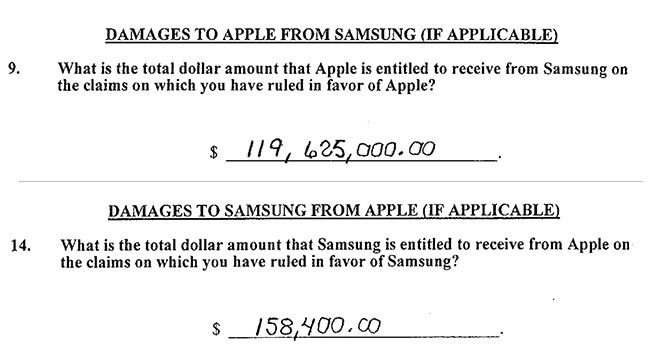 AppleInsider may earn an affiliate commission on purchases made through links on our site.
The U.S. District Court for Northern California late Friday made public the Apple v. Samsung jury's verdict form, revealing exact damages figures assigned to each device found in infringement of parties' patents.
After the Apple v. Samsung jury handed in its decision earlier today, awarding Apple $119.6 million and Samsung $158,000, the final verdict form has been made available for public viewing. The document offers further insight into the jury's thinking.
In its verdict, the jury found Samsung guilty of infringing on two Apple patents, the '647 patent for data detectors and the '721 patent for "slide-to-unlock." A third property, Apple's '172 patent for text input prediction/spell checking, was already ruled infringed by presiding Judge Lucy Koh. For that patent, the jury found willful infringement on Samsung's part, possibly opening the door to additional damages.
Apple's final damages tally may be a bit higher as the company found a discrepancy in the jury's verdict. Specifically, the Galaxy S II was found to be in infringement of the text prediction property, but no damages were assigned. Jurors are scheduled to meet on Monday to resolve the issue.
As seen below, a large chunk of Apple's award came from Samsung's Galaxy S III, which cost the company $52.4 million on infringement of the '647 patent alone. The Galaxy S II Epic 4G Touch — Sprint's version of the smartphone — generated $14.2 million on infringement of the '647 and '172 patents, while all accused Galaxy S II models amounted to a collective $31.1 million.
For Samsung, the jury found Apple's iPhone 4, iPhone 4S, iPhone 5 and fourth- and fifth-generation iPod touch devices in infringement of one patent. Damages for most models sat in the $20,000 range, with the iPhone 5 and fourth-gen iPod touch accounting for a respective $41,514 and $40,597 of Samsung's $158,400 award.