Moves app reneges on privacy promise, will share data with Facebook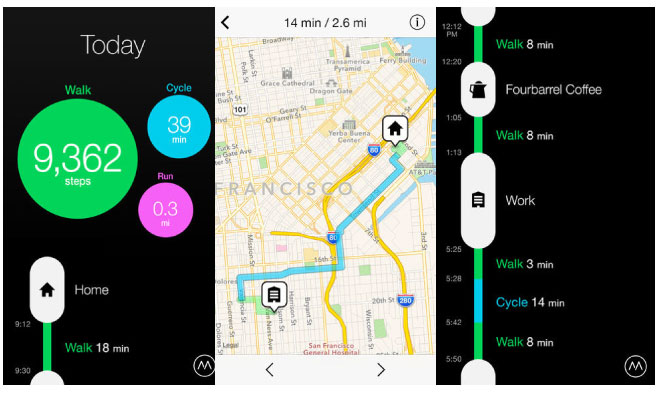 When fitness tracking app Moves was purchased by Facebook in late April, both companies sought to allay worries of privacy-minded users by saying there would be no data "commingling" between the software and the giant social network. It appears the statement was only partially true.
It was discovered on Tuesday that Moves has quietly updated its privacy policy from last week to allow for data sharing with "Affiliates," including new parent company Facebook, reports The Wall Street Journal. The policy change was first seen on Monday.
Under the new terms, users' information can be shared with third-party companies to facilitate support and diagnostics, as well as other seemingly perfunctory functions.
"We may share information, including personally identifying information, with our Affiliates (companies that are part of our corporate groups of companies, including but not limited to Facebook) to help provide, understand, and improve our Services," the policy reads.
The language seems to contradict a notice posted to Moves' official website less than two weeks ago when the company announced its acquisition by Facebook.
"For those of you that use the Moves app - the Moves experience will continue to operate as a standalone app, and there are no plans to change that or commingle data with Facebook," the post said.
For its part, Facebook maintains that data commingling will not occur, a common fear for privacy advocates when a large data-driven company buys out a smaller service. Similar concerns were raised when Facebook purchased popular messaging app WhatsApp in February for $16 billion.
As for the new Moves changes, Facebook said the following in a statement provided to Mashable:
"Commingling, or merging, data would allow us to identify Moves users who are also Facebook users - we have no plans to do that. In other words, Facebook is not adding Moves user data to a Facebook user's Facebook account. But, Facebook will be providing support and services to the Moves app and to be able to do this, we have to have access to the data that Moves already collects from its users - which is 'sharing' data."
In order to support the provision and operation of the Moves app, Facebook will need to have access to the Moves data. Such support for Moves may include performing technical maintenance and developments of the service that improve the experience with the app."