Google usurps Apple as world's most valuable brand name, report says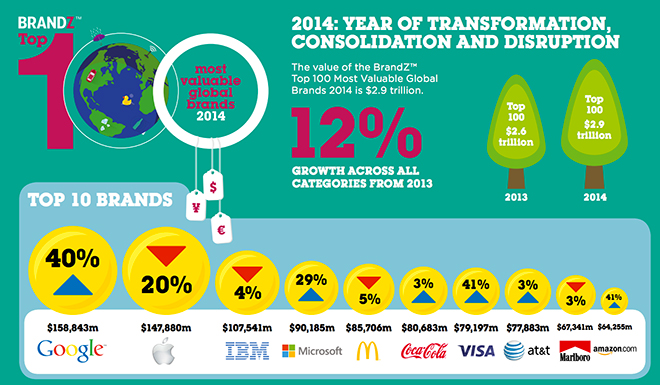 After sitting in the top spot for three years, Apple has been overthrown thanks to Google's innovation over the past year, says one market research firm that compiles an annual list of top worldwide brands.
"Google has been extremely innovative this year with Google Glass, investments in artificial intelligence and a range of partnerships," said Benoit Tranzer, regional managing director of Millward Brown Europe. "All these activities send a very strong signal to consumers about the essence of Google."
According to the firm's estimates, Google's brand value jumped 40 percent over the past year to $158.84 billion, or 115 billion euros.
By comparison, Apple dropped in brand value by 20 percent to $147.88 billion after leading the BrandZ list since 2011. In 2013's list, Apple's growth slowed down to one percent year-over-year, but ended up having a huge $71.4 billion gap over then second-place Google.
Following Google and Apple this year were IBM at $107.54 billion, Microsoft at $90.19 billion and McDonald's at $85.71 billion. Coca Cola, Visa, AT&T, Marlboro and Amazon.com rounded out the top-ten.
The BrandZ methodology calculates a company's financial value and brand contribution, which is qualified as an assessment of a brand's "uniqueness and its ability to stand out from the crowd, generate desire and cultivate loyalty."